All Arsenal Have Left Is Hope
Match Review: Sp*rs 2 Arsenal 2 - Premier League 05.03.16
This week has seen Arsenal's title ambitions crash and burn in a run of yet more poor results. Despite a hard fought draw against our arch rivals on Saturday, it seems that the title has slipped beyond our reach. We needed a win to keep our hopes faintly alive, but even though the result is a pretty good one in isolation, it was probably the final nail in our coffin. The real damage has been done in a horrific start to the calendar year and despite putting ourselves in a position to have a real go at the Championship, the team imploded and left themselves needing a miracle.
Arsene Wenger made a pretty drastic set of changes by his standards, some enforced and some tactical. Ospina replaced the injured Cech, while Gibbs came in for Monreal who had a calf problem and Gabriel continued for Koscielny. The tactical changes saw Elneny and Coquelin form a holding two, Ramsey shift out to the right flank and Danny Welbeck replace Giroud as the central striker. The intention seemed to be to nullify Sp*rs and hit them on the counter.
For the first twenty minutes or so, Sp*rs made most of the running and we struggled to keep the ball. However, they only tested Ospina once and the Colombian made an excellent reaction save to keep out Lamela. Aside from that we did well to keep them to half chances and long range shots. We didn't create a huge amount ourselves until later in the first half and we hit them out of the blue.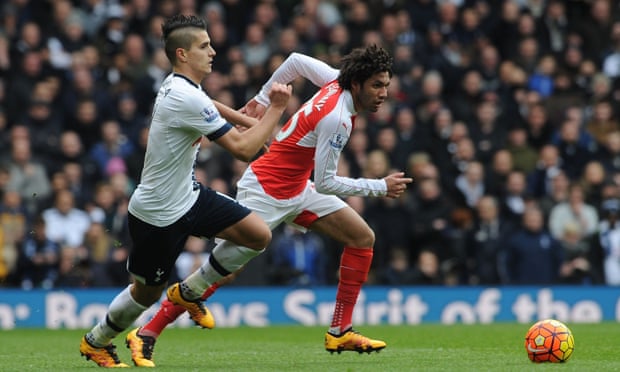 There was a slight element of fortune in the build up to the goal, as Dier's attempted tackle went straight to Danny Welbeck in an advanced position. Welbeck found Bellerin out on the right and the right back produced an excellent pass into Aaron Ramsey around the penalty spot. The goal was all about the finish though, with Ramsey impudently flicking the ball behind him and past Lloris, before shushing the Sp*rs fans. The only regret from the first half was that we didn't get a second goal, as we had Sp*rs on the ropes before the break.
Unfortunately, in a season defined by our inability to hold our nerve, we couldn't help but panic again. This time Coquelin was the villain as he had a complete brain melt and got himself sent off with less than ten minutes gone in the second half. Having picked up a a soft yellow in the first half, he went sliding in on Harry Kane in a nothing area and gave Michael Oliver little choice but to send him off. He knew straight away that he'd made a huge mistake and with so long to go in the game, it shifted all the momentum to Sp*rs.
My real disappointment with this game was not so much Coquelin getting the red card, it was how we reacted. It took Sp*rs just seven minutes to not only equalise, but take the lead after the sending off. First Alderweireld slammed in from inside the six yard box when we failed to deal with a corner and then Harry Kane punished Mertesacker's failure to deal with a ball in the corner, taking one touch and curling an absolute screamer into the far corner. We didn't make them work for it, as soon as we went a man down we capitulated.
If that was the big disappointment, the big plus was the sudden and surprising appearance of some fight and spirit in the Arsenal ranks. Despite the disadvantage in numbers, the players made a notable effort and against all the odds, pulled themselves level. Again Bellerin was the provider, slipping a lovely pass through for Alexis to run onto and the Chilean just about forced the ball beyond Lloris and into the far corner. The Goalkeeper should have done better, but huge credit to Alexis. He has been appalling recently, but he came up with a crucial moment in a big game and under huge pressure. Ramsey had a late chance to win it, but Wimmer produced a great tackle to prevent a full Sp*rs bottle job.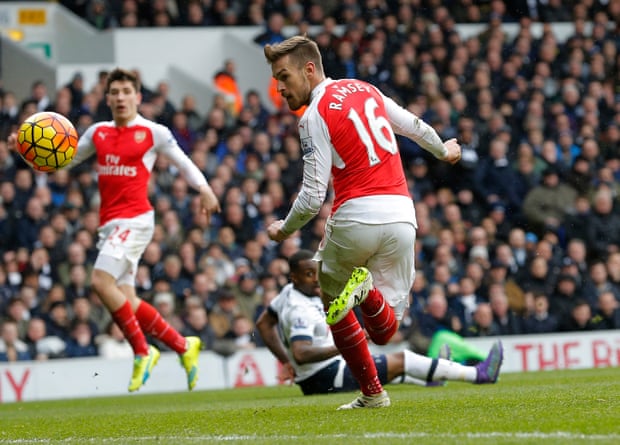 Leicester's win means that we're now eight points behind with nine games left. Sp*rs are still three ahead of us and now clubs are starting to creep up behind us. Not only is our title challenge pretty much finished, we're now in danger of slipping out of the top four if we're not careful. Certainly if our current form continues, we will end up playing on Thursday nights. I'm not disappointed with the Sp*rs result, what's finished us off are awful defeats at Man U and at home to Swansea. Personally I think we started crumbling after the Liverpool game. That late goal dented the team's belief and after a draw at Stoke and a defeat to Chelsea we never looked the same.
The fabled 'mental strength' that is so often talked about wasn't ever seen and you have to wonder whether this group has the mentality to win the league. Right now we look a long way off and the points total after 29 games is the lowest it's been in 5 or 6 years. All we can do now is hope that the players show the same fight as they did on Saturday and that Leicester and Sp*rs suffer an incredible capitulation.
Teams
Sp*rs (4-2-3-1)
Lloris, Walker, Wimmer, Adlerweireld, Rose (Davies 78'), Dier (Y), Dembele (Son 82'), Lamela (Y) (Mason 67'), Alli, Eriksen, Kane
Subs
Vorm, Trippier, Son, Mason, Chadli, Carroll, Davies
Arsenal (4-2-3-1)
Ospina, Bellerin (Y), Mertesacker, Gabriel, Gibbs, Coquelin (Y/R), Elneny (Giroud 75'), Ramsey (Y), Özil (Campbell 90'), Alexis (Y), Welbeck (Flamini 85')
Subs
Macey, Walcott, Campbell, Giroud, Chambers, Flamini, Monreal
Player Ratings
Ospina - 8/10 - Made a few very good saves, credit where it is due
Bellerin - 8/10 - Lucky that he didn't get two yellows, but provided two great assists
Mertesacker - 5/10 - Made a costly mistake for their second goal
Gabriel - 7/10 - Much better than his horror show against United
Gibbs - 7/10 - Surprisingly solid given his lack of game time
Coquelin - 3/10 - Had a good first half but his indiscipline cost us dear
Elneny - 8/10 - Deserves huge credit for coming in and performing so well in his first PL start
Ramsey - 7/10 - I imagine he will be staying out on the right for the foreseeable future
Özil - 6/10 - A quiet game, did put in a decent amount of work though
Alexis - 7/10 - Still not at his best, but what a huge goal that was
Welbeck - 7/10 - Got through a lot of work up front, not at his best but a good performance
http://twitter.com/sambangsdrums Tell us what you think! If you agree, or have a different view, please leave a comment in the comments section or why not write a response or your own article on YouWrite?

Think you know Arsenal? Test your Arsenal knowledge on our trivia page and see if you can beat the top score.

Don't forget to like us on Facebook, add us to your G+ circle and follow us on Twitter.
Follow us
Follow our podcast
Tags: Premier league, Match Review, Match Report, Tottenham vs Arsenal, Sp*rs vs Arsenal