The title is all but gone for Arsenal and now something has to change
Match Review: Arsenal 1 Watford 2 - Premier League 31.01.17
B'Jesus said Arsenal, we collapsed so well, we think we'll go out and we'll do it again. So Arsenal went out and they did it again. Over and over and over again. Another season, another dismal defeat to a mid-table opponent. The defeat leaves us nine points behind Chelsea and barring a miracle of the odds like this slot machine, the title is set to be theirs this year. A win at Stamford Bridge this weekend might pull us back into contention, but I don't think anyone seriously believes that's going to happen. Not after what we saw on Tuesday.
A lot of changes were expected from the FA Cup team from the weekend and a lot were made. Cech, Gabriel, Koscielny, Monreal, Coquelin, Ramsey, Iwobi, Alexis and Giroud all returned, with Mustafi the only survivor. I was pretty put out by Gabriel starting at right back again. Bellerin is fit again and whilst he played the full game at Southampton, he's been in the squad for a lot of recent games, so he can't be lacking sharpness. If he wasn't fit, then he shouldn't have been on the bench and Jenkinson should have been. In fact, now that Jenkinson is staying until at least this summer, I don't know why he wasn't given some game time. He's a right back and Gabriel is not, as was proved in the game and I'd trust Jenks much more than the Brazilian.
The first half may take the title of worst half of football I've seen from us at home. It is not an understatement to say that we were completely dominated by a Watford side who've been very average this season. We couldn't keep the ball, we couldn't attack, but worst of all, we were being torn apart at the back. We went in two nil down, but it could and probably should have been more. A lot of blame has to be laid at the feet of the midfield for this though and the partnership of Ramsey and Coquelin.
This game felt like a watershed moment for Ramsey and not in a good way, in fact, as far from a good way as you could possibly get. It felt like the moment that the tide turned against him and the fans became fully sick of his performances. He was at fault for the first, offering a limp attempt to block Kaboul's free kick and only succeeding in deflecting it past Cech. The second goal was his crowning glory. He completely misjudged a throw in to him, allowing Capoue to steal possession and then as the midfielder rampaged towards goal, Ramsey simply jogged after him and watched as Deeney put in the rebound. Not only that, but soon after he plopped onto the ground and trudged off injured.
Now it would be harsh to blame Ramsey entirely for both the goals, in fact it would be completely wrong to. Mustafi and Gabriel both failed to deal with Capoue and Monreal was too easily beaten to the rebound by Deeney. The free kick they scored from was an incredibly soft decision from the referee and Cech probably should have reacted quicker to the deflection, but fact remains that the initial mistakes by Ramsey had a huge part to play in both goals. What he showed in the time that he was on was really poor too, his passing was dreadful, he looked slow and completely devoid of any creativity.
I cannot help but think it really is time to move on from him. If we're honest, Ramsey had one excellent season and has since been average at best. He has suffered a really unfortunate amount of injuries, but this is another reason we can't rely on him. He was rested at the weekend and we didn't have a game midweek, so he had over a week without a game and still ended up injured. Frankly, he just isn't what we need in midfield anymore and it's a real shame, because we've seen him be excellent, just not consistently. Xhaka and Wilshere have more to offer us and the time might have come to part ways with the Welshman.
Coquelin was also poor in the first half and between the two of them, we had no control in the middle of the park. At half time, we'd had zero shots on target to their six and unsurprisingly the Emirates was not a happy place. However, I didn't feel that support ever wained, as the second half began and the team came out of the traps a little more like they meant it, the crowd was right behind them. There is a tendency to criticise the Emirates' atmosphere along with the team after a bad result, but on this occasion the fans did their bit.
Alex Iwobi pulled a goal back for us with over half an hour left and there was real hope at that point. We really needed to win the game to stay within a reasonable distance of Chelsea and with that goal, the comeback seemed to be well and truly on. Then we took off Coquelin and moved Iwobi to the middle and everything went flat. We still had a number of chances and Theo Walcott, a second half substitute, should have equalised when one on one with Gomes, but inexplicably fired straight at Gomes. You can't afford to miss those chances and it cost us. Perez was unlucky to hit the crossbar late on, but in the end, we didn't do enough to win the game.
You can't be absent for an entire half of football in the Premier League and expect the result to go in your favour. You can't expect to lose games to Watford at home and give up leads at Everton and City and be champions at the end of the season. The way we played in the first half was embarrassing and it simply doesn't happen with the other top clubs. Really, we're miles off where Chelsea are at the moment and miles off where we were when we beat them earlier this season.
It's not a new thing though, last season it was Swansea, a few seasons ago it was Wigan, we fall short every year in the same ways. As such, it's only right that we look at the manager too. Wenger has an excellent squad this year, the best he's had since we moved to the Emirates, yet we look set to achieve no more than in the days of Almunia and Squillaci. Obviously there's still a lot to play for this season, but when you watch games like that, can you really see us beating Bayern over two legs? Can you see us winning at Stamford Bridge, or Anfield, or White Hart Lane? Hell, having watched us on Tuesday, Sutton United probably fancy a crack at us.
I'm just fed up of the never ending cycle we go through. We always do enough to not have to go through a major overhaul, but never getting over the line for anything we could call real success. I don't trust this team, I have no confidence in them going to Stamford Bridge and getting a result and being in the title race after this weekend. Even if they did go and beat Chelsea, I wouldn't be confident in them not to get turned over by Hull at home the following weekend. At some point, changes have to be made, if only to break the monotony.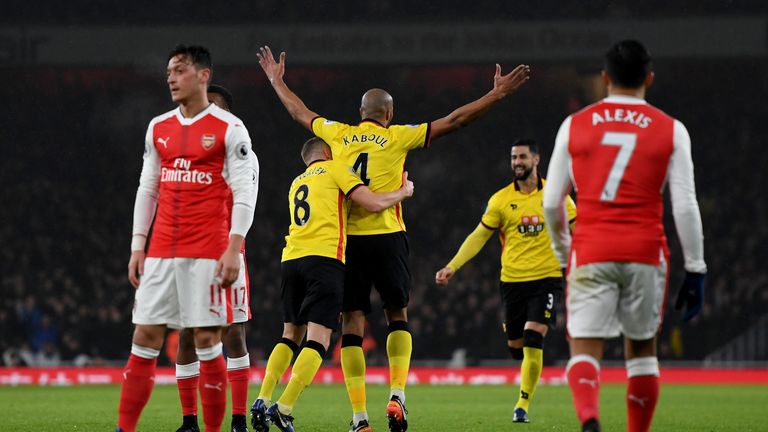 Teams
Arsenal (4-2-3-1)
Cech, Gabriel (Y), Koscielny, Mustafi, Monreal (Y), Coquelin (Perez 67'), Ramsey (Chamberlain 20'), Iwobi, Özil, Alexis (Y), Giroud (Walcott 45')
Subs
Ospina, Gibbs, Perez, Walcott, Chamberlain, Bellerin, Maitland-Niles
Watford (5-3-2)
Gomes, Cathcart, Kaboul, Prödl (Y), Britos, Janmaat, Capoue, Behrami (Doucoure 63'), Cleverley (Y), Niang (Success 70'), Deeney (Okaka 85' (Y))
Subs
Mariappa, Success, Doucoure, Watson, Okaka, Mason, Arlauskis
Player Ratings
Cech - 6/10 - Could have done better for the first, but made a number of good saves after
Gabriel - 4/10 - Gives us nothing down the right and looked shaky in defence
Mustafi - 5/10 - Should have done a lot better handling Capoue for their second goal
Koscielny - 7/10 - Hard to find many faults in his performance
Monreal - 6/10 - Shouldn't have been beaten to the ball by Deeney for the second goal
Coquelin - 4/10 - Looks incredibly limited without a world class midfielder next to him
Ramsey - 0/10 - The worst twenty minutes I've seen from him
Iwobi - 7/10 - Woke up in the second half and posed all sorts of problems before being moved centrally
Özil - 5/10 - Suffered from the team's overall performance, but lost the ball a number of times
Alexis - 6/10 - Did at least provide an assist, but was very sloppy in possession
Giroud - 3/10 - Almost entirely pointless having him out there
Subs
Chamberlain - 6/10 - Was a lot better than Ramsey, still not outstanding, but better
Walcott - 4/10 - Added very little, got a clear cut chance and wasted it
Perez - 6/10 - Deserves more starts, was very unlucky not to equalise for us
http://twitter.com/sambangsdrums Tell us what you think! If you agree, or have a different view, please leave a comment in the comments section or why not write a response or your own article on YouWrite?

Think you know Arsenal? Test your Arsenal knowledge on our trivia page and see if you can beat the top score.

Don't forget to like us on Facebook, add us to your G+ circle and follow us on Twitter.
Follow us
Follow our podcast