Arsenal Christmas Ratings (Part 2 of 2)
As promised, here is part two of Arsenal's Christmas/halfway point player ratings. You can read part one here. Without further ado…
Mathieu Flamini
Rating: 5/10
Flamini's second stint at Arsenal started so well. Defensively solid, reliably, injury free and even scoring the odd goal he seemed a temporary, budget solution to our defensive midfield woes. But he was just that, temporary. I wouldn't say he's particularly underperformed his ability this season, he's just not first team quality. And that has been shown with costly errors, like his desperate lunge leading to us going behind against Man City. Flamini's a useful squad player that we're better off with than without – but that's all really.
Mikel Arteta
Rating: 6/10
I would say Arteta has at least proved his importance to the team this campaign, if he hasn't managed to quench people's thirst for a new defensive midfielder in the market. People rightly point out that Arteta's lack of pace and natural inclination to go forward don't make him long term suitable in his role, but his distribution and ball retention is invariably excellent, and has been missed when he's not in the team. Look at the games against Liverpool, Stoke and even West Ham. He might not be tearing up any trees but he's doing an acceptable job, that's not to say we can't hope for better.
Aaron Ramsey
Rating: 4/10
Ramsey must have been so unbelievably frustrated to have picked up an injury at the time he did, because it was as he was finally starting to regain some of last season's form. He started the season very poorly, overcomplicating things, losing possession far too often – arguably, it was only three or four relatively simple goals which were keeping his place in the team. Then something changed. He scored one of the best goals I've seen in my time as an Arsenal fan against Galatasaray and in his last three games has produced three goals and two assists - and in true Arsenal fashion got himself injured. It's a big six months ahead for the Welshman as it may dictate which direction his career is to take.
Jack Wilshere
Rating: 5/10
Wilshere is another one whose injury couldn't have come at a worse time. Still the scapegoat for many a problem no fault of his own, Wilshere is still struggling to shake of the burden of being fabled the next England legend at age 18, but was slowly starting to show some real development this year I thought, especially with his performances playing a bit deeper for England. He tends to do this a lot though, as soon as he picks up some form, he gets a niggling injury which goes on for a while and we're back to square one. Similarly to Ramsey, the second half of this season could be defining for him.
Santi Cazorla
Rating: 7/10
I am not Santi Cazorla's biggest fan. No one can deny he was fantastic in that first season, but since then I have often found him very tedious to watch. Apparently, he has a tick where he needs to touch the ball with both feet every time he gets on the ball – which is fine, until it starts to cost the team, then it becomes infuriating. But, as frustrating as I sometimes find him, he has had a good season – especially in the last 5-10 games. That goal against Newcastle in particular was special. I still don't think he's been quite as good as some make him out to be, and that's why it's only a seven, but he is certainly going to push Mesut Ozil for his first team place if he continues as he has been playing recently.
Mesut Ozil
Rating: 4/10
There is a real theme emerging here. Just like Ramsey and Wilshere, Ozil got injured just as he was getting some form. In his last four games he contributed one goal and two assists, with an average 'whoscored.com' rating of 7.9, as opposed to a rating of 6.5 and 0 goals, 0 assists for his five previous games. That's right, he's only played 9 games this season. I'd still hope for much, much better in that time frame but the season has been a bit of a non-starter for him.
Oxlade-Chamberlain
Rating: 7/10
Oxlade Chamberlain is another one like Cazorla who I sometimes think gets a bit of an easy ride. He's certainly an exciting, talented player but he's not the answer to everything – as people often suggest when he's on the bench…. There is still vast room for improvement, and his horror show against Liverpool put to bed (at least for the time being) this myth that he can play in the centre already. That said, he has improved his game significantly this season – in the right areas as well, for example his decision making and ball retention, and has notched a credible two goals and three assists in the playing time he's had.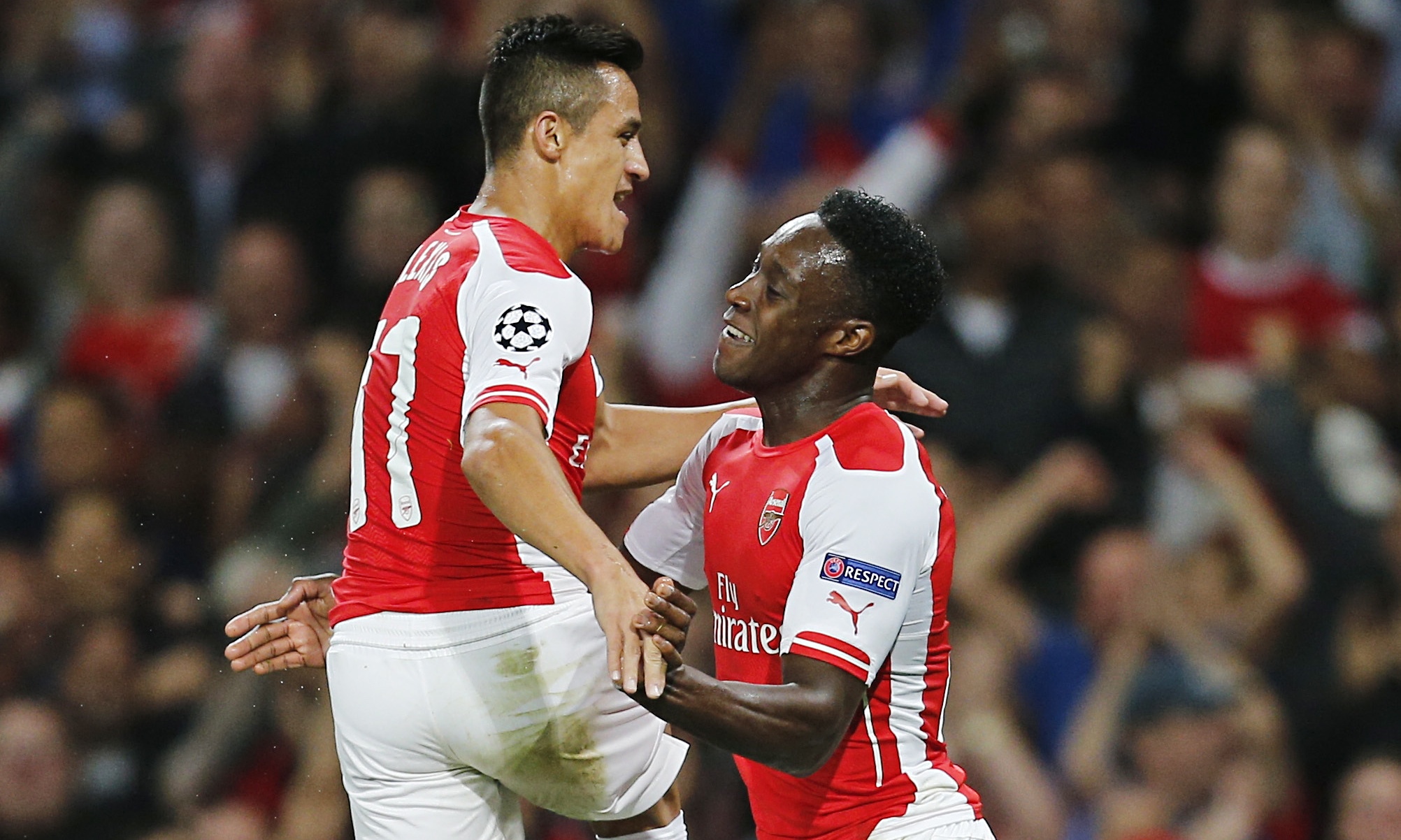 Sanchez
Rating: 9/10
What is there to say really? Sanchez is an incredible player and has settled into this Arsenal team in a way I can't remember any new signing ever doing before. What for me has been one of the most encouraging things is the way he has been able to adapt his game in such a short time frame. If you compare his debut to a more recent game, QPR or Newcastle for example then whilst you'll still see the same blistering pace and mazy runs what you'll now see is someone much more in tune with the style of play and his teammates. It's best not to think about where we might in the league without him.
Welbeck
Rating: 6/10
Welbeck splits opinion more than any other player at the club I find. His promising start, including a hat trick against Galatasaray and two goals relatively early in his Arsenal career against Hull and Aston Villa perhaps gave us all unrealistic expectations him – and the return of Olivier Giroud who was quickly back amongst the goals would've done little for his confidence. But, Welbeck has earnt the club 7 points with winning goals against West Brom and West Ham – as well as a late equaliser at home to Hull and is still young enough for there to be optimism about his Arsenal future. He does need to start scoring more consistently though, otherwise in summer there will undoubtedly be fresh calls for a new striker – and that could really spell the end for Welbeck.
Giroud
Rating: 8/10
Giroud has missed a large portion of this season, but since coming back from injury against Manchester United, he has been absolutely fantastic, producing perhaps the best form of his Arsenal career. Five goals in nine Premier League games with a goal every 92 minutes is a remarkable return for the Frenchman. We will see if he's able to continue it when he returns from suspension picked up against QPR but the foundations are laid for a very good season for Giroud. Perhaps Welbeck's arrival was the kick up the arse he needed, as before his injury he produced one of the worst individual performances I've ever seen from an Arsenal player against Besiktas.
Podolski
Rating: 5/10
Podolski is perhaps the biggest annoyance of recent times. Two goals against Galatasaray in his first start of the season, and he ended up on the bench in the next game. He has in fact averaged a goal every 76 minutes, and one every 43 minutes in Europe but he just cannot get a chance in the league. It's not an outspoken statement to say this season might be his last and although Wenger has temporarily dismissed talk of him moving to Inter on loan in January, Podolski has done little in interviews to detract attention. For now though he is still here and remains, for me, the best finisher at the club and an extremely useful player to have at the club.
So there it is. Ratings for all players who have played a major part this season, and Podolski. Thank you for reading, Merry Christmas and a happy New Year!
@natshaughnessy8 Tell us what you think! If you agree, or have a different view, please leave a comment in the comments section or why not write a response or your own article on YouWrite?

Think you know Arsenal? Test your Arsenal knowledge on our trivia page and see if you can beat the top score.

Don't forget to like us on Facebook, add us to your G+ circle and follow us on Twitter.
Follow us
Follow our podcast
Tags: Podolski, Wilshere, Arteta, Ramsey, Giroud, Santi, Özil, Flamini, Alexis, Welbeck