Gedion Zelalem: Cesc's Heir, Teenage Sensation & Future Star
Arsenal's Academy is fit to burst with great youngsters with the potential to orchestrate any midfield in the world with the right players around them. Arsenal have an amazing choice to make in their Academy with Jebb and Crowley both impressing this season but the biggest hype this year has been around Gedion Zelalem.
Impressing every Arsenal fan with his wonderful and joyful performances in the pre-season matches has led to young Zelalem being compared to former Arsenal player Cesc Fabregas. Aged only 17, Gedion was first noticed by Arsenal scout, Danny Karbassiyoon, last year in the Dallas Cup and joined the club in January 2013 after impressing Arsenal's scouts. Zelalem has also impressed on international duty as well, with him representing Germany U16s team and has been called up to the U17s on a few occasions but has been taken out of the squad for, thus far, unknown reasons.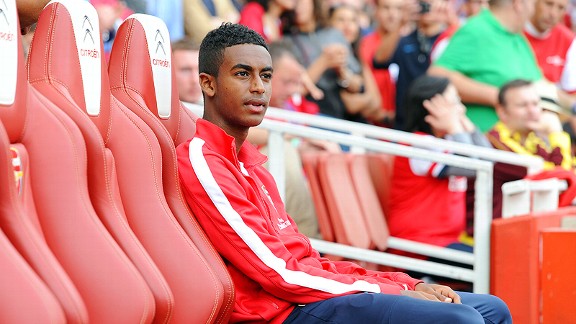 After joining Arsenal in January 2013, and originally starting his career with the U16s, he quickly adapted to English football and displayed qualities beyond his age group, marking him out as an extraordinary player. Within a few weeks of his Arsenal career, Zelalem impressed everyone at the club with his talent and vision but also showed that it was difficult for him to keep up with the physical aspects of the English game. Despite struggling at times with the physicality the English game has, he was called up for first team training by Arsène Wenger on few occasions - a perfect indicator of how highly he is rated by Wenger himself.
Bypassing the U18s, Gedion made his U21s debut away at Liverpool in April last year and continued to win the approval of many Arsenal fans as well as the coaches in our Academy with his fantastic performances at the end of last season. One of the best sides of Zelalem's game is his diligent passing, passing that caught the eye of many supporters.
A technically gifted central midfielder with great vision of the game and really good communication with his teammates on the pitch, his ability on the ball and willingness to adapt to the physical side of the English football has created great expectation amongst the supporters. Gedion is one of those players who is very imaginative in possession, has very clever movement and is a good holder of the ball and skillful player as well.
Continuing along his path towards the first team, Gedion made the substitutes bench against Tottenham in September but was unused. Zelalem made his full competitive first team debut in the FA Cup at the Emirates against Coventry, coming into the game from the bench. Gedion was expected to sign his first professional contract the day he turned 17 but it was delayed and later went on to sign alongside Cazorla and Ramsey, who extended their contracts.
Zelalem was called up to Germany's U17s team four times this season but has been withdrawn every time before they play their matches. On that case, Klinsmann has been working really hard to get Zelalem to become an USA citizen after Julian Green accepted the offer and the chance to represent the US. There could be one problem with that though, if Zelalem accepts the US citizen offer he could face problems with getting the work permit to play in England but for now the club and the player have decided for him to stay here and to keep the things like they are and to focus on being fit and reaching the first team more often.
Gedion Zelalem has been asked to adapt by the club and to play in the deeper role. Coaches in the Academy have been playing Gedion in the box-to-box midfield role since the start of 2014 and the same happened with Olsson who was transformed into that type of midfielder at the start of this season. It's clear that the club want Zelalem to improve on his physical part of his game and playing him in the deeper and more defensive role will certainly help him although he's much better when playing as the #10 as his qualities and abilities to tie up the striker with amazing passes are more noticeable compared to when he plays as the deeper midfielder.
I expect a lot from Zelalem and I can see him developing into an amazing player in the future. It's a known fact that he still needs to improve some parts of his game especially the physical part. For me, he's an extremely intelligent player with great vision and amazing passing abilities but facing tough competition from Crowley for the #10 role and even tougher competition from Olsson for the box-to-box midfield role. Zelalem is already with the first team and has been training with them for almost the entire season and we will surely see him in the pre-season matches once again.
Thank you for reading. I hope you enjoyed it.
@mampov10Tell us what you think! If you agree, or have a different view, please leave a comment in the comments section or why not write a response or your own article on YouWrite?

Think you know Arsenal? Test your Arsenal knowledge on our trivia page and see if you can beat the top score.

Don't forget to like us on Facebook, add us to your G+ circle and follow us on Twitter.
Follow us
Follow our podcast