Arsenal Celebrate 17 Years In UCL
On this very day 17 years ago, Arsenal FC lined up at the Stade Félix Bollaert to face RC Lens in their opening game of the 1998-99 Champions League group stage.
Arsenal had been absent from Europe's premier competition for seven years and during the time it had been re-branded to the modern competition we all know and love. It was not a dream return with Ren equalising in the final minute to cancel out Marc Overmars' second half goal after the Gunners had dominated the game.
This type of result was to be repeated in Arsenal's first home game - held at Wembley - with Dynamo Kiev stealing a point through a stoppage time goal from Rebrov who later went on to Spurs infamy after Bergkamp had scored what looked like the winner in the 74th minute. The group ended with Arsenal in 3rd place which considering the average line-up we had at the time was far below what we could have expected.
Seventeen years later, Arsenal are still Champions League regulars, having not missed a single season since first qualifying which is an amazing achievement unrivaled in the Premier League and only bettered by Real Madrid.
Despite being an ever-present Arsenal haven't come too close to winning the tournament aside from their failed attempt in Paris against Barcelona in acrimonious circumstances. They are, however, usually a pretty good bet in the group stages. Bayern Munich are the favourites for the group but Arsenal have more than enough to qualify or even top the group. The Gunners are clear favourites for this match so if you would like to place a bet on this game, make sure to visit SafestBettingSites.com, where they offer very honest reviews of major sportsbooks to help you out.
The 1998 team that faced Rens was a superb team that boasted a starting line-up better than most current Champions League clubs' first teams. Arsenal lined up with Seaman, Dixon, Keown, Adams, Winterburn, Parlour, Petit, Vieira, Overmars, Bergkamp and Anelka. What a team.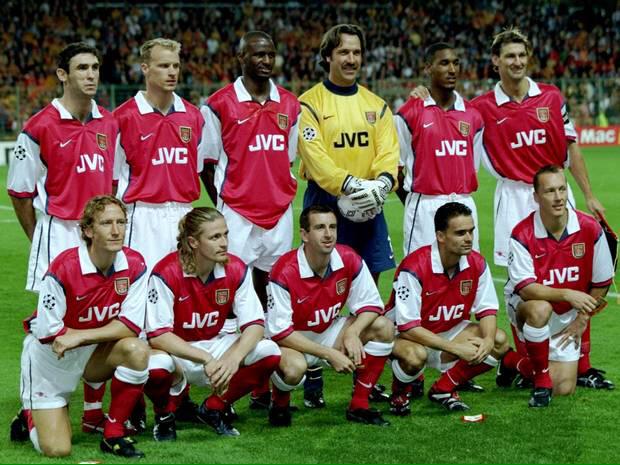 A sprinkling of some of those players in our current team would not only see us favourites for the Champions League but possibly in with a shout of being the Invincibles Mark II. Imagine the goals we could score with a young Anelka (minus the sulking) with Özil supplying him - and how could he be sulky with Santi and Özil in the team?
We've craved a solid defensive midfielder for years and now we have one we're being a tad greedy and wanting someone just as good to back him up - let it never be said we don't have standards! - and few players would be as good an addition as a prime Petit.
And can you imagine the havoc we would wreak with Alexis and Overmars on opposite flanks?
The 1998 team might not have been able to realise their potential and overall it could be argued that this group are not as good but what they have that the 1998 team lacked is experience in Europe. Mesut Özil is 26 and is embarking on his 8th Champions League campaign - more than the entire 1998 squad put together. Experience is massively undervalued at times and it is the experience of playing on Europe's biggest stage, against the biggest teams that could see Arsenal improve on their form of the past 5 seasons and get beyond the knock-out stages.
The match is almost upon us so let us congratulate Arsenal on 17 years in the Champions League and hope for a better result. And as a final bit of fun here is our combined 1998/2015 team/squad - what's yours?
Cech, more clean sheets than Seaman and he did not always have the defence that Seaman did. Dixon, he narrowly beats out Bellerin, who has been fantastic by the way, because of his greater defensive ability. Koscielny and Adams would have been an immense partnership so we've plumped for them. Monreal gets the nod at left back because if you don't rate Nacho you don't rate life. Midfield is a really tricky one but we're going to eschew a traditional defensive midfielder in favour of a double pivot of Ramsey and Vieira. Ramsey brings goals and relentless energy whilst Vieira brings steel, grace and a dominant physical presence that would handle most modern midfields without the need of a defensive partner. Alexis and Overmars on the flanks need little explanation and Anelka gets the nod up front. The number 10 spot is harder than it should be. God, it has to be God.
Cech
Dixon Koscielny Adams Monreal
Overmars Ramsey Vieira Alexis
Bergkamp
Anelka
Tell us what you think! If you agree, or have a different view, please leave a comment in the comments section or why not write a response or your own article on YouWrite?

Think you know Arsenal? Test your Arsenal knowledge on our trivia page and see if you can beat the top score.

Don't forget to like us on Facebook, add us to your G+ circle and follow us on Twitter.
Follow us
Follow our podcast
Tags: Champions League