Is a point the best Arsenal can hope for against Chelsea?
Match Preview: Chelsea vs. Arsenal - Premier League - 17.09.2017
Let's all heave a collective sigh of relief after finding a way past FC Köln, who did give us quite a scare before doing the decent thing in letting us have our way. It's only fair, after all, considering how rudely we've been treated by the Germans on previous visits. Whichever way we slice it, we've now found a way to win two on the bounce, scoring six along the way. While it's still far too early to say we've righted the ship, we've at least progressed beyond rearranging deck chairs on the Titanic. Having stabilised, we can now go into Stamford Bridge with something approaching momentum, perhaps with enough of something that will earn us a point, if not three.
Let's be honest. Even with Conte's so-called selection dilemmas and thin squad, he's got a good thing going. Chelsea have had about as tough a start to the season as anyone, losing to some London club in the Community shield before losing again at home to Burnley, winning away over some other London club, then despatching Everton and Leicester, two feisty if feckless squads. They even found time to defeat an Azerbaijani club in the Champions League. Long story short, they're in fine form. Despite our own recent successes against them, we have to know that we run the risk of getting run over.
I don't mean to sound pessimistic. If anything, I'm only offering to calibrate expectations. When we went into Anfield, I daresay most of us would have been happy with a point. To have gone to pieces as we did is another story. Come Sunday, I suspect we have similar feelings, tinged with a touch of dread: "can we come away with a point?" mutates all too quickly into "can we please avoid a drubbing?"  Despite having won in three of our last four outings, it's hard to overlook the fact that two of those three were played on neutral ground--and, what's worse, we haven't won at Stamford Bridge since 2011.
Had this match been scheduled before the international break, I'd offer bleaker news. However, since the return, we've looked quite a bit sharper, hungrier, and grittier. It seems as if we've worked through the shaky start--two confident wins are not to be underestimated--and we're ready for what's next. 
Against FC Köln, we managed to find some rest for some key players. Against Chelsea, then, we can send out a full-strength XI and see if Chelsea have the depth and the grit to join the fray. They may have won the Prem, but that also suggests that they're complacent. 
By contrast, we have something to prove, perhaps for the first time in some time. Among others, Lacazette and Kolašinac have looked especially sharp, and both will be well-rested. I wonder if Arséne might return to the old, tried-and-true 4-2-3-1, which we saw against FC Köln, in order to offer greater resistance to Chelsea's attack but also to deploy a stronger attack. Bear with me on that until you see the proposed XI below.
As to who might emerge as the man of the match, I nominate Olivier Giroud. He was largely off the radar against FC Köln, but I suspect that he will prove to be instrumental should he start. His physicality and hold-up play would offer Alexis and Lacazette frequent second-chance balls. Heck, I'll even go so far as to suggest that Giroud will find a goal. He's defied expectations before. Why not call on him to do it again?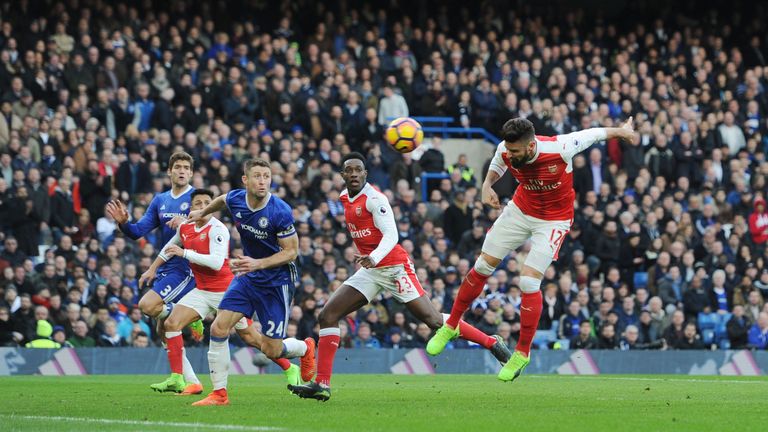 LAST THREE Meetings
Arsenal 1(4)-1(1) Chelsea 06.08.2017
Arsenal 2-1 Chelsea 27.05.2017
Chelsea 3-1 Arsenal 04.02.20017
FACTFILE
Arsenal have not won at Stamford Bridge since 29 October 2011 (five matches)
Across the last six matches, Arsenal have seen three players sent off; Chelsea, two.
We first clashed with Chelsea in the Prem on 3 October 1992, a 2-1 win to the Arsenal.
Chelsea have won eight of the last 11 Premier League meetings (D2, L1).
The Blues have earned five successive top-flight home victories against Arsenal, with an aggregate score of 15-2.
A sixth consecutive away league defeat against Chelsea would represent Arsenal's worst run against a club since losing seven in a row to Liverpool between 1981 and 1988.
Arsenal have kept only one Premier League clean sheet in their last 18 games at Stamford Bridge.
Chelsea have scored in their last 23 Premier League games at Stamford Bridge.
They are also unbeaten in 26 top-flight home matches played on a Sunday (W19, D7).
Alvaro Morata's three Premier League goals and two assists this season have all come via his head.
Eden Hazard has scored in three of his last four home Premier League games against Arsenal.
Arsenal could lose their first three away games of a league season for the first time since 1954.
The Gunners could also go three top-flight away matches without a goal for the first time since 1994-95.
Danny Welbeck has three goals in four Premier League appearances this season, after netting just two in 16 games last term.
This is Arsene Wenger's 59th match against Chelsea, the club he has faced the most during his time in England.
INJURIES
Cazorla is the only one ruled out at this point.
POSSIBLE STARTING XI
Cech; Kolašinac, Koscielny, Mustafi, Bellerín; Ramsey, Xhaka; Alexis, Özil, Lacazette; Giroud.
GOONERSPHERE's PREDICTION
All things considered, we should be happy with a scrappy and well-earned point. Anything above and beyond ices the cake.
Chelsea 2-1 Arsenal.
https://twitter.com/woolwich_1886