Wenger spends as Xhaka & Walcott shine
Match Review: Watford 1 Arsenal 3 - Premier League 27.08.16
At the third time of asking, the Gunners are off and running in the league. Our season hasn't exactly flown out of the blocks, after a shambolic defeat and a slightly shaky draw, so winning this game was incredibly important. Failure to do so would have been huge cause for concern and left us majorly off the pace with only three games gone. As it was, the players responded well and produced a fantastic first half performance to blow Watford away.
The news leading up to the game had been dominated solely by the news of two new signings arriving. Forward Lucas Pérez and (finally) Shkodran Mustafi have both seemingly completed transfers to the club, for fees of £17m and £35m respectively. Lucas is a busy, workhorse of a striker who impressed for Deportivo La Curana last season, while Mustafi's quality is well known, having been part of Germany's world cup winning squad and performing well in the disaster that was Valencia's team last season. Whilst neither have been officially confirmed, Wenger stated that there are only the formalities to complete and Mustafi was even on German TV on Sunday talking about his move.
The team news for the game was also positive, as Mesut Özil was able to start his first game of the season, displacing Coquelin and moving Cazorla further back into midfield. The rest of the team stayed the same, meaning Alexis continued up front and Holding partnered Koscielny.
Watford set up with five at the back and I was initially worried it would be one of those games where we had to toil for a long time to fashion a break through. However, we didn't have to wait long, or work that hard for our first goal, as Watford handed it to us. Mesut Özil floated an inviting ball into the box and as Alexis went for it, he was flattened by Amrabat. Cazorla stepped up and tucked the penalty away straight down the middle for his first of the season.
It was encouraging to see our passing and movement improve dramatically from the first two games. In particular Xhaka's passing was sublime, he demonstrated a huge range of passing and possesses a stunningly accurate long pass. Multiple times he found Walcott and Chamberlain down the flanks and with Cazorla and Özil in the other midfield positions, it gave us threats from everywhere.
Watford did look threatening when they came forward on occasion, so it was a relief to get the second goal and make our position more secure. Bellerin fed Walcott down the right and Theo put in a brilliant low cross to the back post for Alexis. Alexis mishit his finish, but the ball still spun well over the line. That capped a very good half for Walcott, but Alexis still had time to contribute to another goal before the half ended.
Amrabat allowed Alexis time on the ball down the left hand side as the game drifted towards the half and whilst everyone else had switched off, Mesut Özil saw the opportunity dart into the box and head home a pinpoint cross from the Chilean. A near perfect first half and suddenly things looked a lot brighter in the Arsenal world!
The second half was a little less inspiring. Maybe it was fitness, maybe concentration, but we certainly took our foot off the gas and when Watford capitalised on a bit of penalty area pinball to pull a goal back, the nerves started to jangle a bit. Thankfully we steadied the ship and with the help of some excellent goalkeeping from Petr Cech, we held on for the win. I didn't think we were ever in huge trouble, despite Watford scoring, but you never know with Arsenal!
Frustratingly, we now have an international break and lose the chance to build some momentum. Players who have just come back from a long summer at the Euros will now go off and join their national teams for more boring games that no-one really cares about. Honestly, if it's not a major tournament, I'm not interested where Internationals are concerned. Still, we will go into the break with a lot more optimism, having found some form, some new players and our first three points!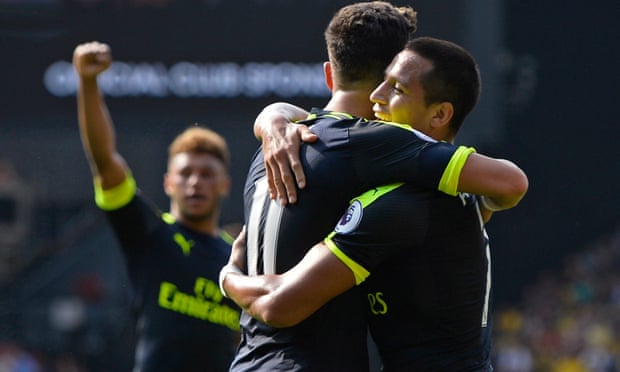 Teams
Watford (5-3-2)
Gomes, Kaboul, Prödl (Y), Kabasele (Janmaat 52'), Amrabat (Y) (Success 77'), Guedioura (Pereyra 45'), Behrami (Y), Capoue, Holebas (Y), Ighalo (Y), Deeney (Y)
Subs
Success, Zuniga, Sinclair, Janmaat, Watson, Pantilimon, Pereyra
Arsenal (4-2-3-1)
Cech, Bellerin, Koscielny, Holding, Monreal (Gibbs 74'), Xhaka, Cazorla, Özil (Wilshere 70' (Y)), Walcott, Chamberlain (Elneny 70'), Alexis
Subs
Ospina, Gibbs, Chambers, Elneny, Coquelin, Wilshere, Giroud
Player Ratings
Cech - 8/10 - Made some excellent stops to keep things comfortable
Bellerin - 7/10 - A decent outing going forward, but caught out a few times at the back
Koscielny - 7/10 - Not quite as imperious as last weekend, but still solid
Holding - 8/10 - Excellent, did his job without fuss and made some brilliant passes
Monreal - 8/10 - Nothing troubled him
Xhaka - 9/10 - He was wonderful, his passing was sublime and so was his tackling
Cazorla - 8/10 - Took the penalty calmly and helped boss the midfield
Walcott - 8/10 - Made a meaningful contribution for once, more of this Theo please!
Özil - 8/10 - There are few players I'd rather watch, his goal was excellent
Chamberlain - 7/10 - Didn't set things alight, but worked hard
Alexis - 8/10 - Looked twice the player with Özil, a great assist and a slightly lucky goal!
Subs
Wilshere - 6/10 - Doesn't look convincing on the right, mouthed his way to a yellow card
Elneny - 7/10 - An industrious cameo
Gibbs - N/A
http://twitter.com/sambangsdrums Tell us what you think! If you agree, or have a different view, please leave a comment in the comments section or why not write a response or your own article on YouWrite?

Think you know Arsenal? Test your Arsenal knowledge on our trivia page and see if you can beat the top score.

Don't forget to like us on Facebook, add us to your G+ circle and follow us on Twitter.
Follow us
Follow our podcast
Tags: Walcott, Match Review, Match Report, Alexis goal, Özil goal, Xhaka, Mustafi, Watford vs Arsenal, Lucas Pérez, Cazorla penalty