November reviews, Wilshere woes and team selection
I'll start off with a little apology. I've been struggling to keep up with the fixtures, my work schedule has been incredibly busy and coupled with the challenges of moving into a new flat, I've not been getting my reviews done. But to make up for it, I've gone for something a bit different: this is a review of the week as a whole, including the games against United and PSG.
We started off at Old Trafford, with an early Saturday kick-off that has so often seen us tank. So, if you'd offered me a point before Saturday's game in Manchester, I'd have bitten your hand off and run away before you had a chance to try and take it back. OT is a terrible ground for us, with only a few exceptions. Perhaps we're still paying for winning the league there fourteen years ago, but that ground has been source of nothing but despair since. We've taken some hearty beatings and our last victory there was over ten years ago. Add in the fact that Wenger hasn't managed a league win against Mourinho in twelve attempts too and I think we'd all agree a draw was a good result for us.
Something of interest to me across both the games this week was the midfield partnerships. On Saturday, Wenger went with Coquelin and Elneny, perhaps looking to use the mobility of the two to counteract the triple threat of Pogba, Herrera and Mata. Unfortunately this particular partnership doesn't deal well with passing under pressure, or distributing the ball in general to be honest. United pressed and cut passing lanes and it stumped the two men in midfield, starving our forwards of the ball. That's not to say I blame either Coquelin or Elneny individually, but they have some serious downsides as a partnership that are likely to counteract any benefits their defensive focus brings.
I think this lack of control was directly to blame for the Man United opener. The home side mounted incessant pressure on us at the start of the second half, we had no respite as we couldn't get hold of the ball for very long and the breakthrough was inevitable. Herrera got in behind Monreal and squared for Mata who had practically an open goal. It proves, for me, that you can have all the defensive players you want in the team, but if you can't get a measure of control in the game, the better sides will eventually break you down.
One-nil down with twenty minutes to go at Old Trafford against a Mourinho side would usually be curtains for us. Considering how poorly we'd played up until that point, there seemed little hope, but sometimes all it takes is one moment and somehow we pulled a rabbit out of the hat. Wenger brought on Giroud and also threw on Chamberlain at right back in an effort to give us some fresh legs whilst keeping Walcott on. Out of nowhere the two combined, with Chamberlain beating Rashford down the right and then hanging up a lovely cross for Giroud to thump home with his head.
It can't be described as anything other than a smash and grab. It was our first shot on target and it came in the 89th minute. I loved it because late goals are always great and I know it will have stung Mourinho like an absolute bitch. The nasty little troll was probably up all night watching the goal over and over again and trying to work out if he could get rid of Rashford. Anything that makes his life worse is good for me.
At the same time, I also hated it, because the performance had been so abject. Against the Spuds we weren't great, but we at least were the better team and didn't look like losing. At Old Trafford, we were poor in the first half and comprehensively outplayed in the second, so whilst we pulled out a good result, the performance was not encouraging. One day we'll win at that god forsaken ground again…
Next up was a winner takes all encounter with PSG in the Champions League. Both of us had qualified, so the match was about who would top the group and sadly it seems we're going to fall short again. A 2-2 draw means that PSG have all but guaranteed the top spot, having scored two at our place to edge ahead in the head to head. It's frustrating and feels a bit like a defeat considering we were leading and had the group in our hands with not long left.
There were a few surprises in the line up as Wenger rotated things a bit, whether for seemingly both tactical and fitness reasons. Cech and Monreal dropped out as expected for Ospina and Gibbs, but there were some interesting changes in the middle and up front. Ramsey replaced Elneny in the middle, Iwobi slotted into the spot Ramsey had occupied on the wing and Walcott dropped out of the team, with Giroud coming in up front and Alexis moving to the wing.
Again, the midfield partnership was interesting, with Coquelin and Ramsey reprising a pairing that had limited success last season. Coquelin is taking some criticism and some of that is justified, he has his limitations and whilst I don't blame him for being the player he is, at Arsenal you can't afford to have a lot of weak areas. At the same time, I think Coquelin does what he does very well, he's a combative, aggressive ball winner and his tackling was excellent on Wednesday.
Ramsey seems to be having a bit of an identity crisis, or at least I'm having a hard time figuring out what type of midfielder he is. I just don't know what a lot of his play was meant to achieve, there was some baffling positioning and passing and I expected more of a distinction between him and Coquelin. Ramsey never seemed to fully take on the mantle of the more advanced, creative midfielder. He wasn't awful, but he wasn't great either and I think there's a collective scratching of heads over what Xhaka has to do to earn a start.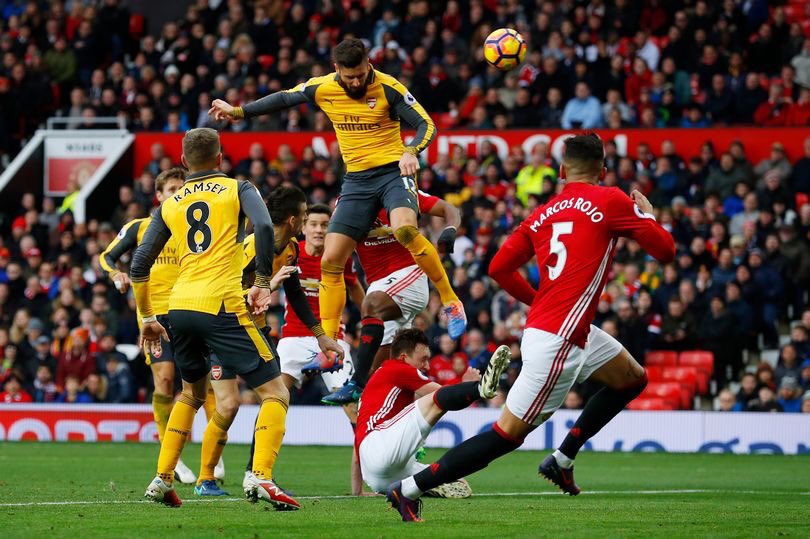 In terms of the goals, both really could have been avoided from our point of view. The first was very poor from Mustafi, who allowed Matuidi to run off far too easily and he squared an unmissable chance for Cavan. We took the lead through a Giroud penalty and then a pretty fortuitous own goal after some pinball in the box. PSG got some luck of their own as they equalised through an own goal, as Iwobi diverted Lucas' header past Ospina. Ospina was in position to make a routine save from the corner, but Iwobi seemed to only half commit to the header and it ended up costing us the win. Whether or not Ospina called properly and early enough, we won't know, but that mix up could cost us.
PSG will almost certainly pummel Ludogorets in the same way we did at home and that makes our game at Basel pretty much a dead rubber. Despite that, it may be inconsequential whether we finish first or second in the group, as there seem to be a number of giants waiting in either position. We can only cross our fingers that we avoid Barca and Madrid, but apart from those two, I would fancy our chances of getting through. Bayern look a shadow of the team they were last year and whilst Juve are a great team, I'd back us to get a result against them more than at one of the Spanish giants. Obviously that's all a long way off, but all hope is not lost yet.
Premier League action returns this weekend and Bournemouth are the visitors for a Sunday afternoon kick off at the Emirates. In the build up to the game, comments by Jack Wilshere have been emerging in the news. The on-loan midfielder will obviously be unable to play against us this weekend, but in the lead up to the match, Wilshere has stated that he hopes Bournemouth win. Now, obviously he's a Bournemouth player for the season and as such, he will want the best for his temporary club. No-one is expect him to come out and say that he hopes his team lose the game, but for me the fact that he came out and said anything at all about it is worrying for me.
Calum Chambers, for example, stayed very quiet about Middlesbrough's visit to the Emirates and after the game simply posted a social media message praising a hard fought game between both teams. Wilshere coming out well before the game and making it plain he hopes his parent club lose says one thing to me and that's that he doesn't expect us to be his parent club for much longer. Clearly the Arsenal PR machine has been stung into action, as the sports pages are now running with stories of an impending contract offer to Jack. I fear it may all be just Arsenal trying to quash the story a bit, as I can't see Wilshere signing a deal before the end of the season, if at all.
It'll be a real shame if he leaves the club. He's come all the way through the academy, he's an Arsenal lad, he's got tremendous talent and we've stuck by him through all the injury sagas. It'd be gutting if he finally got healthy and then left, as I feel Wenger was hoping he'd be the natural successor to Cazorla. Clearly something happened in the summer and Wilshere wanted out at least for a season and having taken that first step, I feel he may have convinced himself it's time to go for good.
Whether that's the case or not, we won't know for a while, but the Bournemouth game is just around the corner and it's an incredibly important game. We've drawn two in a row in the league and we've dropped to three points behind Chelsea at the top. The two draws are ok results as long as you then get the job done against teams like Bournemouth. A failure to win against Bournemouth turns an ok month into another bad November.
With that in mind, I hope we go for a bold attacking line-up and really make our intentions clear. I'd go with: Cech, Jenks, Mustafi, Kos, Gibbs, Xhaka, Ramsey, Iwobi, Özil, Walcott and Alexis. Xhaka simply has to start for me and I think he would compliment Ramsey's game a lot more than Coquelin. I'd like to see Gibbs get a few starts, as Monreal has struggled against pace recently and Gibbs has looked ready to take the step up to start. Either Iwobi or Chamberlain could start on the wing, but I think Iwobi has been more consistent and needs a vote of confidence, as he was visibly devastated by the mistake against PSG. Walcott and Alexis obviously offer us pace and direct running, whilst having Giroud on the bench gives a plan B if things aren't going the way we want them too.
I imagine Wenger will go in a completely different direction, but those are my thoughts! Most of all I want to see a positive and exciting performance from us to show what we're really capable of. If we hit our stride, we can beat any team in the league, we just need to prove it.
http://twitter.com/sambangsdrums Tell us what you think! If you agree, or have a different view, please leave a comment in the comments section or why not write a response or your own article on YouWrite?

Think you know Arsenal? Test your Arsenal knowledge on our trivia page and see if you can beat the top score.

Don't forget to like us on Facebook, add us to your G+ circle and follow us on Twitter.
Follow us
Follow our podcast