Disappointed Arsenal have no time to feel sorry for themselves
Match Review: Everton 2 Arsenal 1 - Premier League 13.12.16
Bump. Back down to Earth for Arsenal, as the long unbeaten run and good form came to a disappointing end at Everton. A fairly abject display was compounded by yet more refereeing incompetence and the fact that Wednesday's results all went against us. For all our good work over the past months, Tuesday's defeat leaves us six points off the pace, and with other teams baring down on us. All this ahead of a trip to Manchester City.
The only change Wenger made was enforced, as Mustafi began a stint on the sidelines with a hamstring injury. The German will miss three weeks of action and perhaps it was a bad omen that he is yet to lose a game in Arsenal colours. It's a big blow for us, as he was forming a good partnership with Koscielny. They weren't keeping many clean sheets, in fact none since October, but they seemed to have an understanding, something that Gabriel is yet to really develop with his fellow centre backs.
Everton have been on a pretty poor run of form of late and it seemed to be playing out as expected in the first half. The home side lacked any attacking momentum and we were able to control the game. The goal we got was rather fortuitous, Alexis hit the free kick but the goal was largely down to a deflection on the way through. Still, they all count and it should have made things easier for us.
However, we never really capitalised on our advantage and a minute before half time we were hit with a sucker punch. Out of nothing, a Baines cross found Coleman in the area and he had a simple task to glance it home. They simply overloaded the box, we went to sleep and against the run of play we went in level. I gather there was some sort of set-to in the tunnel at half time as well, but I didn't find out about it until after the game. All the same, this set of events seemed to turn the tide in their favour.
We were pretty uninspired in the second half and whilst Everton hardly started turning the screw, they were improved on their first half performance. We did put a bit of pressure on at times, but we never found that final pass. On the one occasion we did create a clear cut opportunity, Özil blazed wildly over the bar and it would prove costly not long later.
We can rightly feel aggrieved about Everton's late winner, for a couple of reasons. Firstly, Clattenburg missed a flailing arm from Lukaku that caught Koscielny in the move that resulted in the corner. Koscielny was clearly struck and that allowed Everton to get in behind us and force Koscielny into conceding a free kick. The corner that resulted in the goal came from that free kick and again, it was Koscielny being sinned against, as the supposed corner never touched him and should have resulted in a goal kick.
Nevertheless, a corner was awarded and we were entirely to blame for not defending it well enough. Unfortunately, the main blame has to fall on Mesut Özil, who was in the 'zone' that Williams scored the goal from. I love Mesut as a player and he gets a lot more criticism than he deserves, but on this occasion he deserves every bit of it. His sole contribution was to start wandering towards the edge of the area and then duck and flinch as Williams came flying in behind him. You question whether or not Özil should have been left to have to mark someone like Williams, but his attempt to defend him was utterly pathetic.
There was still time for an extra kick in the nuts at the very end. We had a last minute free kick, which resulted in Jagielka being sent off. The ball was whipped in, a scramble ensued and somehow, Iwobi's shot on goal was cleared off the line in agonising fashion. Not only that, the ball then fell to Alexis, who was then blatantly tripped in the area for what should have been a penalty. But of course, penalties seem to be switched off in the game preferences when it comes to us.
What really annoyed me about that incident was the lack of reaction from the Arsenal players. There was no more than a half hearted appeal and really think that helped make the referee's decision easier. Think of it in cricket terms, the strength of an appeal is a big indicator to an umpire of how close a player is to being out. An umpire is very unlikely to give someone out if there's just a half hearted enquiry from the fielding team, no matter how close it is to being out.
Now think of Clattenburg's position, we're the away team, a goal down in the very last minute of the game and all he receives is some half hearted shouts and a few arms in the air. That makes it very easy for him to turn a blind eye and let play go on. I know the referees shouldn't be influenced in this manner, but frankly the referees in the Premier League are weak and quite simply bad at their jobs. I feel like we're not street smart sometimes, any other team would have been howling at the referee and making it as difficult as possible not to give it.
You can look at the defeat a number of ways, it was our first away defeat in nine months, the first game we've lost since the first day of the season. Unfortunately, the reality of the situation is that with Chelsea in ridiculous form and other teams having won on Wednesday, it's a nasty blow for us. We're six off Chelsea and we're down to third with Liverpool nipping above us on goals scored. City are now just a point behind us too and that's where we head next.
Another side effect to the loss is that the game at the Etihad now becomes a huge fixture. We absolutely have to get something out of it and ideally we need all three points. City have looked wobbly of late and yet they are still only just behind us, meaning defeat will leave us in fourth and potentially looking over our shoulders rather than up the league. Quite simply, a massive response is needed by the team on Sunday, otherwise it'll seem like the familiar Christmas collapse is on its way.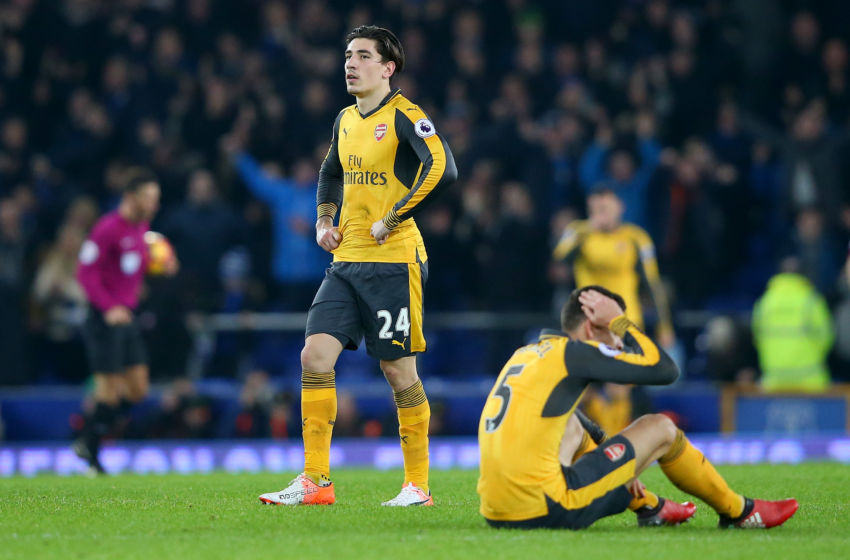 Teams
Everton (4-2-3-1)
Stekelenburg, Coleman, Jagielka (Y/R), Williams, Baines, McCarthy (Y) (Funes Mori 90'), Gueye, Barkley, Valencia (Calvert-Lewin 79'), Lennon (Mirallas 68'), Lukaku
Subs
Robles, Deulofeu, Mirallas, Cleverly, Funes Mori, Calvert-Lewin, Colgate
Arsenal (4-2-3-1)
Cech, Bellerin, Koscielny (Y), Gabriel, Monreal, Coquelin (Perez 88'), Xhaka, Walcott (Giroud 71'), Özil, Oxlade-Chamberlain (Iwobi 71'), Alexis
Subs
Ospina, Gibbs, Perez, Giroud, Holding, Iwobi, Elneny
Player Ratings
Cech - 7/10 - Not at fault for either goal
Bellerin - 7/10 - Had a pretty decent game, nothing more though
Koscielny - 7/10 - Solid as usual
Gabriel - 6/10 - Caught out for the first goal, still looks awful with the ball at his feet
Monreal - 7/10 - Did nothing wrong
Xhaka - 7/10 - Continues to impress as the deep lying midfielder
Coquelin - 6/10 - A bit headless at times, picked up a needless yellow
Walcott - 6/10 - Pretty anonymous, could have done more to stop their first too
Özil - 3/10 - Sorry Mesut, missed a golden opportunity and bottled the corner
Chamberlain - 6/10 - Struggled to make an impact
Alexis - 7/10 - Another goal and another busy performance
Subs
Giroud - 5/10 - Did very little of note when he came on
Iwobi - 5/10 - Really had to be scoring that last minute chance
Perez - N/A
http://twitter.com/sambangsdrums Tell us what you think! If you agree, or have a different view, please leave a comment in the comments section or why not write a response or your own article on YouWrite?

Think you know Arsenal? Test your Arsenal knowledge on our trivia page and see if you can beat the top score.

Don't forget to like us on Facebook, add us to your G+ circle and follow us on Twitter.
Follow us
Follow our podcast