Danny Welbeck, take a bow
Match Review: Southampton 0 Arsenal 5 - FA Cup 28.01.17
Recent history suggested that a trip to Southampton in a cup competition would be a potential stumbling block for Arsenal. Our record at St Mary's is quite poor and Southampton have made a habit of beating us both in the league and the league cup recently. So to come away from their rather dull stadium having given them a good pasting was a welcome surprise!
Any nerves about the game would not have been calmed by the announcement of the team. Wenger, serving the first game of his four match touchline ban, made ten changes. In came the Gibbs, Ospina, Holding and Lucas, to name a few, out went Alexis, Özil, Giroud and Koscielny, with the latter three not even appearing on the bench. It was a bit of a gamble from the boss, but it was probably an informed one, given that Southampton had played a full strength team midweek to make the League Cup Final. The risk paid off, as Southampton also rotated heavily.
It's hard to overstate how impressive Danny Welbeck is. This is a man who has been through long term injury, come back and played at a top level and then been hit with another long term injury. The true nature of lay-offs like this is hidden to us as fans. We hear about the injury, we sympathise and then we move on with the team and after a short while, the injured player is mostly forgotten about because he's not front of mind and in the team anymore. For Danny, there were months of rehabilitation and gym work and the mental side of things, dealing with the disappointment, the doubts, watching the team go on without you. It's hard to imagine how difficult it was and how difficult it has been for many of our players dealing with injury over the years.
Coming back and starting your first game in over seven months and scoring two brilliantly taken goals is the mark of a player you want at your club. His first was gorgeous, from the away section we couldn't see Lucas' sublime through ball, but we did see Welbeck control, compose himself and then dink the ball in off the underside of the bar. Seven minutes later, we're watching what looked like a hopeful ball forward by Walcott, long over the top of defence. Danny was there again, holding off his defender to bring down a tricky ball and roll it past the keeper. As returns to the starting line up go, it's difficult to get much better.
Theo Walcott, might feel a little aggrieved that his performance in the game has been a little over shadowed by the return of 'dat guy'. But, as another player returning from injury, his contribution was just as impressive. His first goal was actually down to Welbeck, who played a one-two with Lucas and then squared the ball for Walcott to nip in front of a complacent defender and poke the ball home. A three nil lead at half time didn't exactly make it a sure thing, but it made it pretty close to one.
There was no collapse and just before the 70th minute arrived, the game was put beyond doubt. Alexis was introduced for Welbeck and promptly came up with an assist, cutting back for Walcott around the penalty spot, allowing him to sweep home his second. Late on Walcott managed to finish off his hat trick, steaming up field to support Alexis, who waited patiently and once again put the ball on a plate for his teammate. Fun fact, all of Theo Walcott's goals were one touch finishes.
There is no substitute for a good old thumping. Almost all the players had excellent games, we laid the ghost of our 4-0 defeat to rest and may have also got the Southampton monkey off our backs. It's created an instantly more positive vibe around the team and with most of our squad fit and healthy, we're in a very good place. Not only that, but our prize for getting through was an excellent draw against the lowest ranked side left in the cup, Sutton United. Obviously there can be no room for complacency and we should be very wary of the threat that teams like Sutton pose, especially on their home turf. But as the match falls just three days after our match at Bayern Munich, it should allow us to rest a few players and continue giving game time to the likes of Maitland-Niles and Reine-Adelaide.
As ever though, there is little time to enjoy results like this. The Premier League returns tonight and Watford visit the Emirates. It's a decent game to have after a weekend fixture, one of our very winnable remaining fixtures. In fact, it is a must win, given that Chelsea travel to Liverpool. The next two games may well be make or break for the title race. If Chelsea gain maximum points away at Liverpool and then at home to us, it's hard to see them not cruising to the title. We're hoping to see them slip up tonight, take advantage ourselves and then at the very, very least, avoid defeat at the Bridge.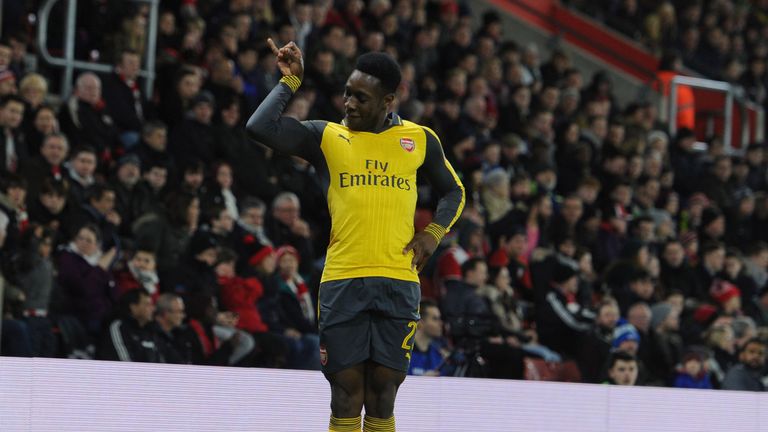 Teams
Southampton (4-2-3-1)
Lewis, Martina, Stephens, Gardos, McQueen, Højbjerg, Reed, Clasie, Sims, Long (Redmond 65'), Isgrove (Tadic 64')
Subs
Yoshida, Davis, Tadic, Romeu, Redmond, Bertrand, Taylor
Arsenal (4-2-3-1)
Ospina, Bellerin, Mustafi, Holding, Gibbs, Maitland-Niles, Oxlade-Chamberlain, Walcott, Reine-Adelaide (Iwobi 72'), Lucas, Welbeck (Alexis 65')
Subs
Martinez, Mertesacker, Gabriel, Alexis, Iwobi, Jenkinson, Monreal
Player Ratings
Ospina - 6/10 - Didn't have a lot to do, but had one mad moment sprinting out of his goal
Bellerin - 7/10 - Solid performance, good to have him back in the team
Mustafi - 7/10 - Pretty much untroubled, played well with Holding
Holding - 7/10 - Got beaten by Long's pace once, but overall pretty good
Gibbs - 5/10 - Looked very shaky at times and struggled with Southampton's wingers
Maitland-Niles - 8/10 - Shown huge faith by the manager and delivered in midfield
Chamberlain - 8/10 - Looked at home in the middle and may have finally found his place
Walcott - 9/10 - His goals were all gifts, but he had to be in the right place to get them
Reine-Adelaide - 7/10 - Fairly quiet, but held his own and got some valuable experience
Lucas - 9/10 - Brilliant assist for Danny and was creating things all game, top performance
Welbeck - 10/10 - Two goals and an assist in his first start in months, take a bow Danny
Subs
Alexis - 8/10 - Lovely stat padding with a couple of assist
Iwobi - 7/10 - Wasn't on for very long and the game was dead, but we love him so 7 it is
http://twitter.com/sambangsdrums
Tell us what you think! If you agree, or have a different view, please leave a comment in the comments section or why not write a response or your own article on YouWrite?

Think you know Arsenal? Test your Arsenal knowledge on our trivia page and see if you can beat the top score.

Don't forget to like us on Facebook, add us to your G+ circle and follow us on Twitter.
Follow us
Follow our podcast