Bringing back Cesc is a no brainer
I am not usually one to get excited about, or indeed even pay heed to, wild transfer rumours that the Mail in essence picked out of a hat. However, at the weekend Sky Sports News reported that (according to Sky Sources) Fabregas would be returning to the Premier League. They didn't say to whom and they didn't say when, although any business will surely happen after the World Cup. They just said that it was their understanding that Barcelona met with the player and announced it was their intention to sell him.
Cue Twitter-anarchy. As with so many contentious issues (Wenger, Sagna, Giroud to name a few) the majority of Arsenal fans were cleary divided into two distinct categories. Cesc loving and Cesc loathing. I am undoubtedly Cesc loving, probably more so now than I was 24 hours ago, when I wouldn't have even considered his return a possibility.
I just don't understand any of the arguments against him coming. The first main one is 'he threw a tantrum to leave, let him rot…'. Well, of course he threw a tantrum to leave when the club promised him the move the summer before (effectively Wenger asked him for one more year) and then went back on that promise. He never left anyone in any confusion about his intentions. If you somehow expected him to abandon his dream return to Barcelona in exchange for the likes of Eboue, Silvestre, Arshavin and Bendtner whilst being constantly reliant on the fitness of Van Persie in order to even stay in the top four then you need help. Fair enough, he could've handled those last 3-6 months better. But then so could the club. In fact, the club should never have let that situation develop at all. For me, it was more their doing than his.
The second argument against him coming is that it'll compromise other transfer activity. Yet this is completely unfounded for two reasons. Firstly, Barcelona still owe us €15m (Euros) from the Song and Fabregas transfers, so the real cost of buying him would be about £15m. The club would not have been banking on that money coming in anytime soon you would presume and certainly wouldn't have accounted for it in their transfer kitty for this summer, so this transfer would only eat £15m into that.
But secondly, and perhaps more importantly, there is absolutely no reason other than Wenger's stubbornness that this transfer would inhibit our ability to strengthen in all the necessary positions. Considering we're probably going to be spending under £10m for our new right back and there are several goalkeepers set to be available on frees this summer that leaves two main positions where big spending is required, striker and DM. Fabregas would not fill either of these roles and they would still be needed. But if the reports about our budget are to be believed, all this would still leave £75 million in the bank. Wenger might be stubborn but this isn't eight big name signings we're talking about, it's three. One of whom will actually cost the club £15m. If fifteen million pounds is going to put Wenger off signing in the positions where it is most needed then he is the problem. Not Cesc.
The final argument is where would he fit in? It's another one that I struggle with as it hypothesises that we will ever have a fully fit first team. But in the event that we do, I would envisage us playing a 4-1-3-2, with Gibbs and Aurier (or whoever we sign at RB) acting as attacking wing backs on the counter, with whoever our DM is sitting just in front of the defence. The likelihood is, at least one or two would be injured at all times, giving Chamberlain and Wilshere perfectly adequate playing time for them to develop their game and fulfil their potential.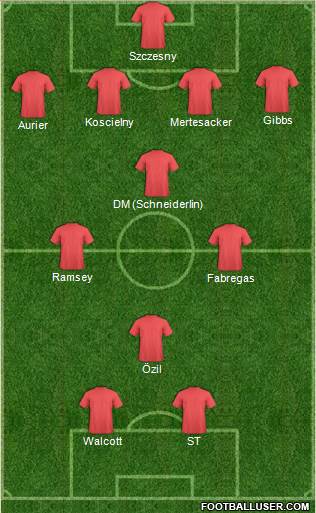 When he was here, Cesc was one of the finest players I have had the privilege of seeing grace a football pitch. The reason we used to dominate games for ninety minutes, even against the big sides a lot of the time, was because of him and Song. We now have the opportunity to recreate that and actually better it. A midfield three of Ramsey, Fabregas and Özil, with a solid defensive midfielder sitting behind them has the potential to be the best in the world. No exaggeration. Arteta and Rosicky are the wrong side of thirty with Cazorla not far behind and it seems (unfortunately) that Podolski is never going to get the chance up front that he deserves. Thus, there is absolutely no problem (in my eyes) in bringing Cesc back. There are simply endless ways in which we could make it work, and we would be adding one of the best midfielders in the world to our team. One who is virtually guaranteed to contribute to 20 goals a season (goals + assists).
It's purely speculation at this stage whether or not this might just be another piece of press garbage, but the fact that Sky Sports News (a generally respectable outlet) seem so confident on it strongly suggests to me that there are at least some truth in these rumours. And if there are, don't think twice Wenger. Please.

@natshaughnessy8Tell us what you think! If you agree, or have a different view, please leave a comment in the comments section or why not write a response or your own article on YouWrite?

Think you know Arsenal? Test your Arsenal knowledge on our trivia page and see if you can beat the top score.

Don't forget to like us on Facebook, add us to your G+ circle and follow us on Twitter.
Follow us
Follow our podcast