Gonzalo Higuain - Your Guide To The Arsenal Target
Career in focus
River Plate
Higuain began his career at Argentinia-giants River Plate, making his debut as the age of just 17. He failed to score in his first season, but his second season saw the arrival of his first goal - scoring his side's only goal in a 2-1 defeta at Gimnasia y Esgrima de La Plata (yeah, try saying that when you're drunk!), Higuain ended the 2005/06 campaign with 5 goals in 12 appearances, not a bad record for an 18 year old. After his sensational double in the Superclasico derby against Boca Juniors, his manager Daniel Passarella claimed Higuain was 'destined for superstardom'.
Real Madrid
Just over a month after Passarella's glowing comments on Higuain, he was snapped up by a team that needs no introductions, Real Madrid, for a fee of €12m. His debut came in the Copa del Rey (Spanish FA Cup) against Real Betis. His first La Liga appearance followed just 3 days later against Zaragoza where young Gonzalo Higuain got his first assist for his new club. His first goal came a two months after his move away at Atletico - he scored the equaliser to give his side a 1-1 draw at the Estadio Vicente Calderon. Doubts were raised towards the end of the season as Higuain had failed to score many goals.
The next season, Higuain was in-and-out of the Real Madrid starting 11, but finished the season strongly with a goal to win La Liga for Real Madrid (90th minute winner against Osasuna), and scored in his first El Clasico in a 4-1 white-washing of Barcelona. Higuain finished the season with 8 goals in 25 matches.
2008/09 was the breakthrough season for Gonzalo Higuain as he was offered a starting spot due to the serious injury to Ruud Van Nistelrooy. Higuain scored the winner against Valencia in the Spanish Supercup bringing another trophy back to the Bernebau. A couple of matches following the win, Higuain scored all 4 goals in a 4-3 win over Malaga, in front of Argentina representatives. He made his debut for Argentina in 2009 after rejecting advances to play for France, where the striker was born. The striker ended the season with 22 goals in 34 matches and was recognised alongside renowned stars like, Diego Forlan, David Villa and Arsenal Legend, Thierry Henry.
The following season was the most successful season to date for Higuain, notching up 27 goals in 32 appearances making him top goalscorer for Real Madrid and second in the league behind Lionel Messi. This season also saw him score his first goal in the UEFA Champions League. At the end of the season, Higuain would jet off to South Africa to play in the 2010 World Cup.
2010 World Cup
Higuain managed to score 4 goals at the World Cup - a hat-trick against South Korea in the group stages and a goal in the last 16 against Mexico. He was one of the highest goalscorers at the World Cup and was the leading goalscorer for Argentina.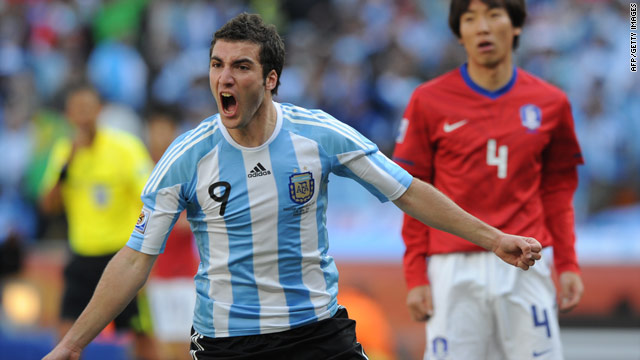 After the World Cup, Higuain extended his contract with Real Madrid until 2016. He entered Real Madrid history after scoring their 700th Champions League goal. In December, Higuain was diagnosed with herniated lumbar disc and had to undergo surgery which ruled him out until April. The Argentinian marked his return with a hat-trick away at Valencia in a 6-3 win. He finished the season with 10 goals in 17 matches.
In 2011/12, Higuain played more than double the amount of matches he had the season before. 'El Pipita' scored two hat-tricks in just 13 days in October 2011, one away at Espanyol and the other against Real Betis. At the end of March 2012, Higuain scored his 100th goal for Real Madrid in all competitions. The striker finished with 22 goals, more than teammate Karim Benzema.
Last season, Higuain began the season scoring in a goal in each of his first 3 games. He managed to score his 100th La Liga goal in a 88th minute against relegated-Deportivo. Higuain announced at the end of the campaign he was leaving after scoring 121 goals in an impressive career at Real Madrid.
Welcome to Arsenal?
It's hard to see Gonzalo Higuain not joining Arsenal now, following all of the media stories claiming it is 95% done.
Higuain is a poacher and simply will score a lot of goals. His passing and holding the ball are strong skills of his, and his style of play often sees him laying off the ball, which is perfect for Cazorla. His dribbling is decent alongside his ability to shoot from distance. He prefers to play counter-attacking football which is what Arsenal have been renowned for in recent years. However, Higuain's weaknesses are offside-awareness and his heading skills.
If Arsenal do secure Higuain, which fingers-crossed they will, it will be a sensational signing. Perhaps one of our best ever!
Thanks for reading
Follow @cainfootballTell us what you think! If you agree, or have a different view, please leave a comment in the comments section or why not write a response or your own article on YouWrite?

Think you know Arsenal? Test your Arsenal knowledge on our trivia page and see if you can beat the top score.

Don't forget to like us on Facebook, add us to your G+ circle and follow us on Twitter.
Follow us
Follow our podcast