I Told You So: Ramsey's Revival Joy Not Everyone's To Share
A lot has been written about Aaron Ramsey's revival, and his form at the moment is genuinely something to behold. We also have to bear in mind that even with the second half of last year and the beginning of this, his resurgence still only spans a very small amount of time, and he has a long way to go to prove he can do it consistently and in a team capable of winning.
I'm not here to talk about Ramsey on the pitch, however, but about the fan reaction to his return to form and the various positions that our supporters appear to be taking. Also to try and clarify and justify my own position on the matter, which, as always, isn't easy on Twitter, where the pace of debate and character limitation make it easy to say something you don't quite mean, or to misrepresent something you do.
The debate as it stands has become a meta-debate: a debate about a debate. The original debate - about Ramsey's quality – is slowly starting to disappear and has instead been replaced by a debate about, some would say, who was right and who was wrong.
The title of this article is taken from the reaction by some fans against those who are revelling in their correctness – the 'I told you so' group – who are supposedly taking pleasure in laughing at those who didn't see Ramsey's potential. I am not a member of this group.
There is nothing wrong in having an opinion on a player's abilities, positive or negative. I have no issue with those who thought Ramsey would never make it, provided they are happy to admit that they got it wrong. In fact, as an Arsenal fan, if you doubt one of our players will make it you should be actively hoping to be proven wrong. Why would you not want a player to step up, make the grade and become an asset to the club?
I am a natural optimist, and even the players I think have no chance of becoming a first team regular I hold hope for. And if they happen to prove me wrong I am delighted, and will be the first to hold my hands up and admit that was the case. Anyone who does the same I will respect more, not less.
No-one can predict the future and no-one gets it right every time. And this, without any shred of a doubt, includes Arsene Wenger.
Where the Ramsey case stands out, however, is in the overwhelming stubbornness, abuse, hatred and exaggerated negativity that his performances brought. The anger was so relentless and so in-your-face that there should be absolutely no surprise in the reactions of those who have always believed in him.
A year or more spent arguing our case against those who were so vocal, irrational and vitriolic in their outbursts has made Ramsey's rise a far more emotional event for many than it would have been had our entire fan base provided a united display of support of condolence instead. This is now our turn to be vocal about an issue that is very difficult to sweep under the carpet, given the unbelievable back tracking and memory loss that has occurred.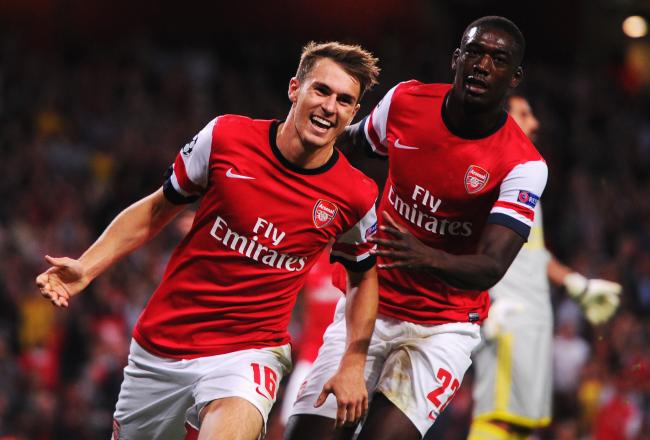 Much as I am enjoying Ramsey's performances (and believe me, my overwhelming feeling right now is joy) I do find it tough to share this emotion with every supporter, as some believe is the correct course of action. "Why can't we all just enjoy his performances together?" is the argument, and as somewhat of an idealist I can't deny I would love nothing more.
But where fans have been so quick to change their mind, and act as if they had supported him all along, I honestly struggle to see our experience of this fantastic period as being the same. Even more when fans were actively calling Ramsey a prick or a c*nt (or Wenger for playing him), booing him during matches, or even (an incredibly small minority I know) wishing he would break his leg again, it's fair to say that the chance of me sharing my joy with them has long gone. And I have seen, with my own eyes, all of the above.
Realistically, I am not singling out any particular fan or section of fans (even though some certainly deserve it), and I have not kept score with who was and who wasn't on board. I know some fans who changed their mind think that the statements from those who always believed in Ramsey are aimed at them, but I can assure you that, knowing how rational a lot of our fans are (especially those I converse with), mine are almost certainly not.
But what you have to understand is that this issue is something many of us have felt strongly about for a long, long time, and we have every right to voice our opinions on the subject now. Unless, of course, we vocalise our opinions in as irrational or ridiculous a manner as some of those whose hatred and dismissal of Ramsey we were arguing against.
I've said my piece on the subject now so I will try not to bring it up again, although I am an opinionated guy and sometimes find it difficult to hold my tongue. But, for those rational and supportive fans, whether you believed in Ramsey or not, I truly hope he continues this wonderful form because it's fucking brilliant.
Follow @wengerboy1Tell us what you think! If you agree, or have a different view, please leave a comment in the comments section or why not write a response or your own article on YouWrite?

Think you know Arsenal? Test your Arsenal knowledge on our trivia page and see if you can beat the top score.

Don't forget to like us on Facebook, add us to your G+ circle and follow us on Twitter.
Follow us
Follow our podcast