Is There a Number 9 for Arsenal?
Despite Arsenal's excellent start to the season, sitting second in the league with a game in hand at time of writing, there still remains much discussion about future transfer plans. The general consensus is that to 'complete' a title-challenging squad, Arsenal are in need of another centre-back, possibly another deep midfielder, and most importantly, a 'top-class' striker.
Now, I find this term irritating, it's up there with the most irritating vague footballing expressions, along with a "beast of a" centre-back or defensive midfielder, generally meaning of African descent and over 6"2, and using the term "artisan" to mean a creative player, despite it actually meaning "skilled labourer", like a man who makes shoes. Mezut Ozil doesn't make shoes; he just wears them on his beautiful, beautiful feet. Maybe he does make shoes, in his spare time, on reflection. He weaves them out of starlight and the beauty of true love.
But I digress. It's all very well to say that Arsenal need a world class centre-forward, but quite another thing to think of one. There were a surprising number of strikers on the market in the summer, but none joined Arsenal, for various reasons. Edinson Cavani and Radamel Falcao moved to French oil sides, Mario Gomez is the final evolution of Darren Bent, and Luis Suarez plays for a side owned by John W.Henry. Despite the number of strikers available, I'm not sure how many of them would comfortably replace Olivier Giroud in Arsenal's system, for quite a few reasons.
The issue is, that Arsenal's current system, based roughly off the now-standard 4-2-3-1 formation, is reliant on having a striker capable of holding up the ball, joining in build-up play, and also, you know, scoring goals. Giroud does a lot of this to great effect, but it's safe to say he lacks that certain something that seperates him from the elite in European football. The question is, who can Arsenal sign who will do all the things Giroud does, yet also have that ability to create something out of nothing, have that extra yard of pace to scare defences? It's quite hard to think of it.
The idea of signing a versatile forward like Suarez or Reus, who can also play with Giroud, is one idea, but they lack hold-up ability and height, and may not be able to exert themselves fully on defences if played alone up front. And the options for 'complete' forwards are few. I have devised a list of possible options, but they all have question marks.
Jackson Martinez: Powerful, capable of improvisation and spectacular goals as well as being the focal point of Porto's attack, the Colombian would be available for his release clause of 40 million Euros. However, he's 27 already, and has only played in Portugal, a league not famed for mean defences. He'd represent an expensive risk, though his European record is good.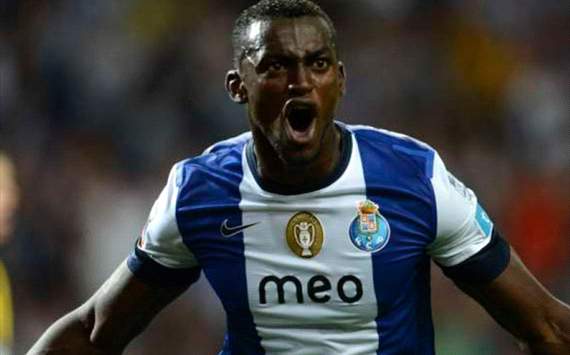 Mario Balotelli: The Italian has it all; power, technical ability, and has managed to fix his head mostly on his shoulders. However, there are still issues over his temperament, and what's to say returning to England won't bring back his previous wayward behaviour? Not to mention the fact that he's probably an even greater asset to Milan than Kaka was back in the day.
Romelu Lukaku: It's with trepidation that I include the on-loan Chelsea forward, as it's A. Unlikely that Jose Mourinho would let him go to Arsenal, without selling him to another club and having them move him on at a later date, and B. I fear his physical prowess has blinded many to some of his flaws. His first touch is lacking, and he plays very frequently with his front to goal, trying to run at defenders against better judgement. Wenger could probably mould him into a sensational player, but it's getting him to the Emirates that would be difficult.
Perhaps I'm missing some golden player who will solve all of Arsenal's striking problems, but right now it looks difficult. I think an unspectacular addition will be made in January for numbers, but the real attempts to recruit a new first-choice striker will begin next summer. But what do I know? I'm not even real. By reading this piece, you are accepting your own madness. Revel in it. Become it. But most of all, keep it in an air-tight container, otherwise it'll go stale.
Follow @BRTMerrillTell us what you think! If you agree, or have a different view, please leave a comment in the comments section or why not write a response or your own article on YouWrite?

Think you know Arsenal? Test your Arsenal knowledge on our trivia page and see if you can beat the top score.

Don't forget to like us on Facebook, add us to your G+ circle and follow us on Twitter.
Follow us
Follow our podcast