Benzema's Chances of Arsenal Move
There has been a lot of talk about the possibility of Karim Benzema becoming available for next summer's transfer window and that he was possibly offered to AFC this past summer. After speaking with a friend that has knowledge of what transpired last summer, I can tell you he was not offered or considered for sale.
It is very common knowledge that Benzema is Real Madrid president Florentino Perez's pet project. He signed Benzema with the hopes that he would develop into the next Brazilian Ronaldo and in fact flew Ronaldo out, Benzema's idol, to meet him upon the Frenchman signing with his boyhood favorite club.
The decision to let Higuain leave in the summer and stay with Benzema and a couple of youth prospects, Morata and Jesé, shows the faith that the club has in the still developing striker. There were connections, in the media only, that Real Madrid would move for Luis Suarez, but that was never a real possibility as Madrid is very much equal parts commercial entity as well as the biggest club in the world. This signing would only make sense football-wise and we all know that those are not the only considerations Madrid take into account when making a signing; see Bale.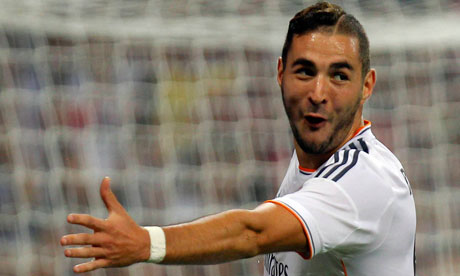 This year was meant to be a stop-gap year at striker for Madrid, allowing Karim to develop without anyone to threatening him at the position. This would then set the stage for their grand plan to have everything in place to make a run at Falcao during next summer's window, which has been the plan since last January when it was known that Falcao was on his way out of At. Madrid.
So knowing all of this, Madrid may have listened to offers for the Frenchman but certainly never seriously entertained them or offered him out. Can this change from this year to next? Absolutely, but as of right now it is in Benzema's hands as to whether he'll be playing at the Bernabeu next year.
Florentino himself came out and commented on a few of these points in the last couple of days as seen http://sports.yahoo.com/news/soccer-real-madrid-could-bid-falcao-next-perez-093528429--sector.html
For the time being, Arsenal will have to make do at striker and go after other targets in January and next summer where the Gunners will surely spend in that position. Benzema's situation could change, but it would take many moving parts.
My take on Benzema is that he is too similar to Giroud for his acquisition to make sense for the club. The same can be said for Llorente, who I believe is a similar but lesser player than Giroud. Unfortunately there are slim pickings in the position that would round off what is turning out to be a brilliant squad. Let's hope the powers that be get it right.
T-minus four days to see the boys back in action. I for one can't wait for the speculation to go away so we can all concentrate on real news, football matches. UTA!
@Gooner_In_BCNTell us what you think! If you agree, or have a different view, please leave a comment in the comments section or why not write a response or your own article on YouWrite?

Think you know Arsenal? Test your Arsenal knowledge on our trivia page and see if you can beat the top score.

Don't forget to like us on Facebook, add us to your G+ circle and follow us on Twitter.
Follow us
Follow our podcast