Akpom Or Sanogo? Only One Can Make It
Back in December, I wrote a piece for this esteemed site evaluating the competition between Héctor Bellerin and Carl Jenkinson. Essentially, this is a competition happening slightly below the surface of the first XI - though Debuchy's physical travails have seen Bellerin popping his head above the parapet like a curious turtle. The Darwinist joust between Bellerin and Jenkinson is, in the short term, the race for second place in the right full back berth. In the long term, both will have designs on the number 2 shirt with Debuchy approaching 30.
Arsenal have a comparable competition going on upfront, veiled just beneath the terra firma of the first XI. In recent years, Wenger has regularly deployed a target man style centre forward, with Emmanuel Adebayor and Olivier Giroud having both enjoyed prominence. Giroud and to a lesser extent, Welbeck are still very much top dogs at the tip of Arsenal's front three. However, in Yaya Sanogo and Chuba Akpom, Wenger is grooming two young bucks to firstly understudy and then assume the figurehead crown.
Both players boast impressive physiques and both appear to have the attention of Arsene Wenger. Yaya Sanogo has started games against Liverpool and Bayern Munich, as well as an F.A. Cup semi-final. He was also Wenger's first port of call from the bench during the F.A. Cup Final and the young Frenchman certainly made an impact. Meanwhile, Chuba Akpom has been convinced to sign a four and a half year contract with the club, despite having only appeared for the first team four times. Sanogo also found minutes difficult to come by this season with Arsenal having been eliminated from the League Cup at the first hurdle.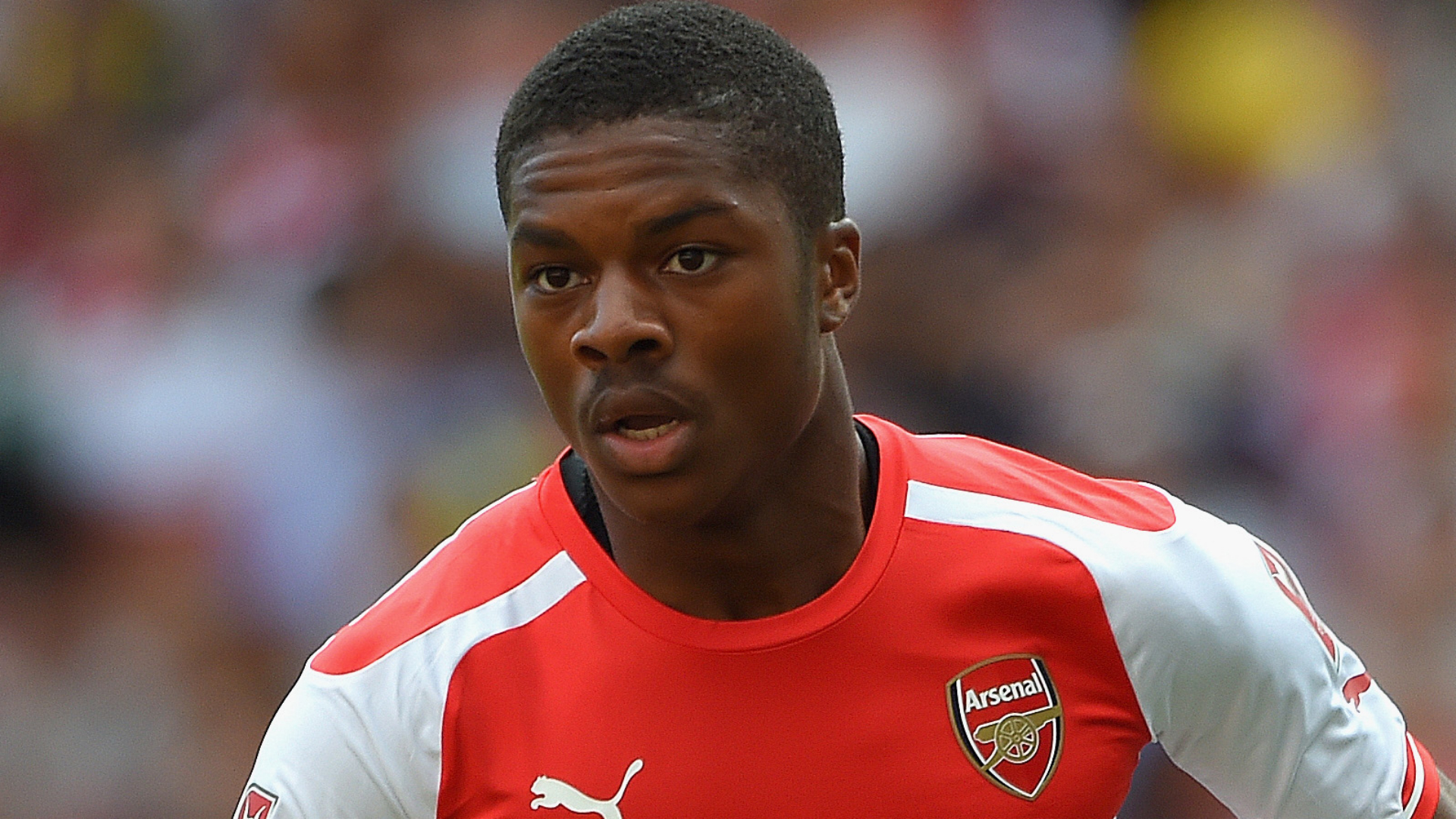 As with Bellerin and Jenkinson, I think the Arsenal squad is not a town big enough Sanogo and Akpom to cohabit in the long term. I think it is likely that Wenger will assess Sanogo's progression during his loan spell at Crystal Palace and for the first half of next season, he may seek to reassimilate Sanogo back into the squad, with Akpom taking in a temporary spell at another Premier League club. In 12-18 months, you would think the manager will have to pull the trigger and decide which of his young target men to take under his wing on a long term basis.
So who has the edge in this battle of the apprentices? (This would probably be a solid format for a TV show. I wonder why nobody has pitched it to the BBC yet?) I have seen a fair bit of Chuba Akpom since he came to prominence in Arsenal's U-21 side in 2012. Akpom acclimatised to life very quickly at that level. I was quite surprised that it took until 2014 for him to go on loan in the Football League. He forged a formidable partnership with Serge Gnabry and amassed 13 goals. It was obvious rather quickly that reserve level challenged him insufficiently.
However, the fledgling Nextgen competition (since replaced by the UEFA Youth League) allowed him to test himself against young players of similar ability. My reservation at that time revolved around Chuba's physical development. At 17, he was already very muscular. His power was vastly superior to his peers and I wondered if his dominance might fade once that advantage levelled out in advancing years and when he came to play against older opponents. This, coupled with attitude issues, certainly hampered the development of Jay Emmanuel Thomas. However, Akpom has looked to develop the technical side of his game.
His idol is Thierry Henry - and it shows. Despite his raw physicality and his well-honed penalty box instincts, Akpom likes to adopt similar positions to Henry and even mimics his gait at times. Akpom has added some inches in the last two years and his frame is still muscular, but much more slender than it was. Chuba still has a nice pelvic tilt (oooo errrr) into defenders with his back to goal. He uses his body very well as a target man, but over the last two years, he has sought to make greater use of the channels. As with Thierry, Akpom likes to start slightly from the left, between the full back and centre half before bullying his way in field with the ball.
He is still developing technically, sometimes, much like Sanogo, you get the impression that his feet are going faster than his brain. Witness, the heavy touch in the penalty area which did eventually yield a penalty against Aston Villa. There is still a gap between the player Akpom would like to be and the player that he is, which is to be expected at his age. Chuba certainly offers a greater goal threat than Sanogo. He has a good instinct inside the area, as he showed in his brief cameo against Villa. At reserve level he was always a prolific scorer of close range goals. He has a nose for getting onto the end of crosses and rebounds. Akpom has the taste for goals too, he was also a very reliable penalty taker at junior level.
Yaya Sanogo, I think it's fair to say, will probably never notch you 20-30 goals a season. However, Sanogo will help others to score goals. This is why Wenger rates him, to the puzzlement of others. The Frenchman has great physical attributes and he certainly seems to know how to use his upper body strength. But he needs to develop a better sense of positioning. Giroud for instance, knows which positions to take up when inviting the long ball. Sanogo veers slightly into 'headless chicken' territory at times. He needs to learn to stay closer to the opponent's penalty area, where his physique can reap greater rewards.
The F.A. Cup Final was a good illustration of Sanogo's potential. Hull had coped reasonably easily with Arsenal's threat prior to his arrival. Nobody would describe Yaya's charms as subtle, but if he can be that effective on a regular basis, you get the sense Arsenal's more proficient finishers would be grateful to have him as an ally. This is where he may have an edge over Akpom, conversely enough. Chuba is looking to become a more rounded striker and away from the pure target man pigeon hole. Yet that could potentially limit his 'Plan B' potential. Arguably, Akpom might have further to climb than Sanogo.
Arsenal have quite a few rounded forwards and Akpom could risk being thrown into the pot with the likes of Welbeck and Alexis. Sanogo probably only need do enough to become a viable option from the bench to secure his Arsenal future in the medium term. Akpom will probably have the backing of the supporters, everybody loves to see an Academy product and local boy make it. Sanogo has earned some ridicule from Arsenal fans and the wider public for his lack of finesse. I'm perhaps facilitating that by comparing him to Emile Heskey. I would qualify that comparison by stating that 'I hope he becomes a better version of' Heskey and I also think Heskey, whilst sometimes limited, was a more useful player than people gave him credit for. Like Sanogo, he wasn't much of a goalscorer, but he helped his team to score. Sanogo has 3 years on Akpom in terms of age, but injuries to the Frenchman puts their respective development at similar stages. A gauntlet has been tossed at equidistance between the two young men. Only one will be able to grasp it.
http://twitter.com/stillberto Tell us what you think! If you agree, or have a different view, please leave a comment in the comments section or why not write a response or your own article on YouWrite?

Think you know Arsenal? Test your Arsenal knowledge on our trivia page and see if you can beat the top score.

Don't forget to like us on Facebook, add us to your G+ circle and follow us on Twitter.
Follow us
Follow our podcast
Tags: Wenger, Yaya Sanogo, Chuba Akpom, Youth Strikers, Tim Stillman