Abou Diaby: Myth and Legend
It's been a good three years in coming in truth, but today, the name of Vassiriki Abou Diaby featured on Arsenal's 'released' list, published on the official website. The list is not carved in stone of course, but with the contracts of messrs Rosicky and Arteta also at their expiry, it seems unlikely that Diaby's name would feature were there any prospect of renegotiation. Arsene provided some sympathetic soundbites when Diaby played in a clutch of U-21 fixtures in the spring, but never seriously considered him for first team action. Still, the curt administrative progress that brings the curtain down on his Arsenal career seems brutal, not brutal like Dan Smith's "tackle", but the result is no less lugubrious.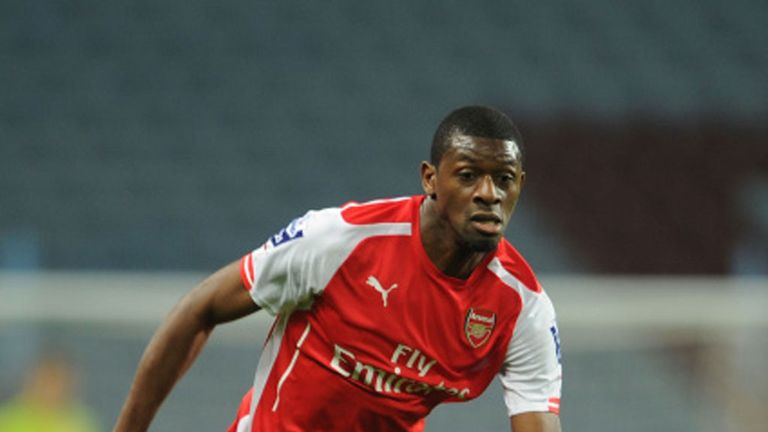 Any sort of update on Diaby's situation causes a ripple on the Arsenal twitter-sphere, one imagines in a similar way to the US Department of Defence every time the Taliban released another of their grainy videos. Tongues are all a flap, keyboards rattle in indignation as the two tribes of Diaby go to war. Those that gaze their navels and lament his ill fortune and those that recite their "we should have sacked that crock off years ago" anthem. Wherever you fall on the Diaby spectrum of pity, the end of his Arsenal career leaves a kind of melancholy void for us all. It's one less thing to argue about after all and a thousand injury jokes are instantly burgled of their familiar punchline. If nothing else, Arsenal fans are left scratching around for new material.
The timeline of Diaby's Gunners career is probably better illustrated on a human skeleton than a football blog. Diaby was never the same player following Dan Smith's brutal and rather pointless assault on his ankle, which dislocated and fractured simultaneously. This is the folk song that has travelled far and wide. As a result, people have lamented the decision to award Abou a long term contract in January of 2010. However, the legend omits some key details, are legends are wont to do. Diaby actually did recover from that Smith tackle, slowly but surely, he demonstrated prolonged periods of fitness. In 2007-08, he managed 28 appearances in total, by 2008-09, that number had risen to 36.
By the time Diaby was offered new terms, he was in the middle of the 2009-10 season, in which he made 40 appearances. Steady progress that indicated a successful climb to full fitness. But in the early autumn of 2010, Bolton's Paul Robinson landed another forceful and unnecessary blow to Diaby's ankle. The Frenchman reacted angrily, as one would expect. Once the red mist had cleared, he looked downwards mournfully and clutched his ankle with a grimace. Not wishing to resurrect old demons, he soldiered on. Seven days later, Chelsea's Michael Essien trod on the same ankle and Diaby had to submit to the pain. He had corrective surgery a few days later.
Abou subsequently managed 20 appearances in total in 2010-11, 5 in 2011-12, 15 in 2012-13 and one a piece in each of the last two seasons. In January 2010, Arsenal had reasonable medical evidence to support their suspicion that he was worth a new contract, the twin blows which truly impaired his fitness occurred thereafter. The cruciate ligament injury suffered in March 2013 was a shot of vinegar in an already open wound. The club's decision to extend his deal became the wrong one in hindsight only. Those that ask why Arsenal did not sell Diaby earlier need only glimpse the appearance statistics above; he's been pretty much unmarketable for 3 years. Wenger might also have reflected on the respective rebirths of Robin van Persie and Tomas Rosicky - both players he was encouraged to give up on by many sections of the fan base during lame years in the treatment room.
Diaby's legacy is fascinating because of its incompleteness, the gaps his injuries have left give our imaginations spacious margins to fill and fields in which to dance. He was such a peculiar player, like a slightly more graceful (less 'elbowy') version of Maroaune Fellaini. At Anfield in August 2012, Diaby was a one man wrecking ball, tip toeing and slaloming past Liverpool's midfield at will. At Old Trafford three years earlier, his stupefying header past Almunia gifted a below par United the points and symbolised Arsenal's 'brain dead' era. That comically powerful header into the very top corner of his own net was the precursor for the 4-4 at Newcastle (in which Diaby was sent off) and the 2-0 up, 3-2 down defeats to Spurs and Wigan.
Diaby was capable of slaying teams single handedly, but as well, in a team fond of turning the gun on itself, Diaby was a marksman in the art of footballing suicide. He often strode into the realms of ridiculousness, but with a spin and a feint, he shimmied his way into the boundaries of greatness; like some kind of lanky interloper that has accidentally wandered into the ladies toilets. Teammates and coaches alike seem fairly united in their admiration of Diaby's skills. (Except for Hatem Ben Arfa maybe). Wenger's trust in his ability is apparent beyond soundbites, whilst ex Bleus boss Laurent Blanc said that a fit Diaby was the first name on his team sheet. French journalist Julien Laurens told the Arsenal Supporters Trust last month that he once interviewed Santi Cazorla and the diminutive Spaniard said that Diaby was the best player he had ever seen in training.
Diaby was the training ground leviathan whose genius touched the pitch only occasionally. His memorable performances trip off of the tongue, but there were plenty of listless ones too. A fitter, healthier Abou Diaby may have established some rhythm, which may have allowed his prowess to bloom on a consistent basis. How you remember Abou Diaby's Arsenal career probably depends on where you sit on the spectrum. It's likely that you have either convinced yourself that he is 21st century football's lost behemoth, or you may rejoice that a perma-crock wage drain has removed his tentacles from the club accounts. Diaby's career is a story of empty spaces that need to be filled and his departure leaves us contemplating a void in one way or another. It's certainly one less thing to argue about.
http://twitter.com/Stillberto Tell us what you think! If you agree, or have a different view, please leave a comment in the comments section or why not write a response or your own article on YouWrite?

Think you know Arsenal? Test your Arsenal knowledge on our trivia page and see if you can beat the top score.

Don't forget to like us on Facebook, add us to your G+ circle and follow us on Twitter.
Follow us
Follow our podcast
Tags: Diaby, Contract, Abou Diaby, Released