More than anything, Arsenal needs a new captain
There are many different approaches to obtaining success in football. There is the stoic approach from Claudio Ranieri's Leicester City last season, when they invited all and sundry to break the two rigid banks of four that imposingly stood in the way of their opponents. There is the Pep Guardiola plan, in which they plan to keep possession of the ball and play around you. After all, you cannot be hurt when the opposition have not got the ball. Let us not forget Jurgen Klopp's 'GegenPress' model from Borussia Dortmund. It may not be ready for action at Anfield yet, but the idea of your team pressing all over the pitch and enforcing mistakes on your foe has reaped rewards.
Then there are two styles, two ideals that stand at opposite ends of the spectrum.
In one corner, you have Jose Mourinho's Manchester United, Inter, Chelsea and his Real Madrid. Jose likes to see his side utilise an effective press, but most of all, he expects his whole team to defend when under pressure. Who can forget his tirades directed toward Eden Hazard for his failure to track back? He wants a team effort in every manoeuvre, and that is an admirable trait, but not at the expense of one of the brightest attacking talents in Europe.
Jose is pragmatic. He realises that it is not how you play on the pitch that will last the test of time - it is trophies. It is winning and getting your team's name inscribed onto these shiny mementos. When Arsenal won the FA Cup in 2005, the majority will not remember that United completely dominated the game and Arsenal hardly posed a threat. The details will be lost to the slow erosive powers of time. All that will remain is the record books, which clearly state Arsenal were FA Cup winners in 2005.
It is not pretty, and it wins few admirers, but Mourinho is perhaps the antithesis of Arsène Wenger, in everything from personality to ideals.
We are all well aware of the Arsène Wenger way, and how highly he prizes aesthetics over grit. It has become even less diluted in recent years. In the glory years of 1996-2005, Arsenal had a potent cocktail of swagger and power. Fast forward over a decade, and while the skill and passing remain, the grit has been sadly ground down.
Wenger's teams need both to succeed. In the nine years which represented our trophy drought, our manager's juggling of finances whilst maintaining a competitive side is vastly underrated and may rank among the highest of his achievements at the club. How many managers can say they took a team into the Champions League which contained the delights of Pascal Cygan and Mikael Silvestre?
We lost that combative style player in the process though. When Gilberto left the club, there were a few seasons when Arsenal could be steamrollered in the face of sheer physicality. The Sam Allardyce's and Tony Pulis' of the League saw this chink in the armour and exploited it as best they could. It hampered Arsenal for years, but surely now with the wealth of midfield options in our side we now have the necessary crunch in our sandwich?
Jose Mourinho may well have no regard for entertaining the crowd, but he seems to be well aware of the necessity for a midfield enforcer in his ranks. Currently at Old Trafford, much to the chagrin of the Red Devil faithful, he employs Marouane Fellaini in the holding role and when the big-haired Belgian isn't playing, then the niggly Anders Herrera takes the spot next to Paul Pogba who has free license on the pitch.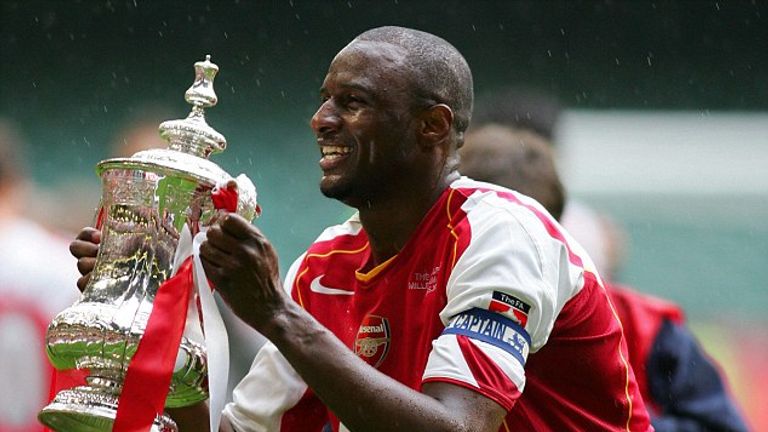 Antonio Conte at Chelsea employs two of this kind of player to sit in front of his defence in Nemanja Matic and N'Golo Kanté and it has had a dramatic effect.
Arsène Wenger acted to fill this void in our squad many seasons ago, and at this moment we have Francis Coquelin, Mohamed Elneny and Granit Xhaka who can fulfil this role. It isn't merely a defensive midfielder we needed in our ranks - we needed leadership, an example to follow.
Coquelin, Xhaka and Elneny may be adept at grabbing the ball, but they are not who we should look to when the chips are down. When we are struggling and we need a verbal bashing, who rises to the fore? Who uses their words to pick the players up from their haunches?
In that respect, we have never replaced Patrick Vieira. The Captain's armband has been bandied around to whoever was the inspirational technical force on the pitch - not the natural leader.
From Thierry Henry to Robin Van Persie, then Thomas Vermaelen and Mikel Arteta, these players did our shirt proud when they wore it, but they were not leaders of men.
At this juncture, we sit on a precipice. It is more vital than ever that our Captain provides a solid foundation in times of uncertainty. It is perhaps the most important task that our manager - whether it be Wenger or someone else - has in the summer.
Tell us what you think! If you agree, or have a different view, please leave a comment in the comments section or why not write a response or your own article on YouWrite?

Think you know Arsenal? Test your Arsenal knowledge on our trivia page and see if you can beat the top score.

Don't forget to like us on Facebook, add us to your G+ circle and follow us on Twitter.
Follow us
Follow our podcast