Gunners Find Form But Is It Too Late?
Match Review: Everton 0 Arsenal 2 - Premier League 19.03.16
Good lord! A win and a comfortable one at that! Trying to second guess this Arsenal side is nigh on impossible as they put in a confident, free-flowing performance at Goodison Park to easily dispose of Everton. It was a perplexing performance, simply because we haven't seen a good win like that for months. Our form has been shocking, but a good show of character at the Nou Camp and this display at Goodison has offered some encouragement for the finish to the season.
Arsene Wenger made just one change from the team that started against Barca, with Coquelin replacing Flamini. It meant a first Premier League start for Alex Iwobi, a reward for a remarkably confident and assured performance against one of the best sides in the world. Danny Welbeck has also been in good form and seems to have nailed down the starting spot up front, while Gabriel seems to have established himself for a run in the side at the expense of Mertesacker.
Scoring goals has been our problem of late, but finally we found our edge and got an early goal to settle the nerves. The issue has been not converting our chances and the longer we went without a goal the more nervous and uptight the team got. Danny Welbeck took the first one we got though, set up by a gorgeous bit of interplay between Özil and Alexis. A sharp one-two between our two star players was followed by a the latter rolling a perfectly weighted ball in behind for Welbeck, who rounded the keeper and slotted home. A lot of people were understandably predicting a stern test in this game, but the perfect start settled things down nicely.
It wasn't just our attacking play that was impressive, defensively we gave Everton absolutely nothing. There were a few counter attacks that caused concern, but on the whole Barkley and Lukaku were barely in the game. Baines and Coleman were also given short shrift and the Everton midfield provided little to trouble us.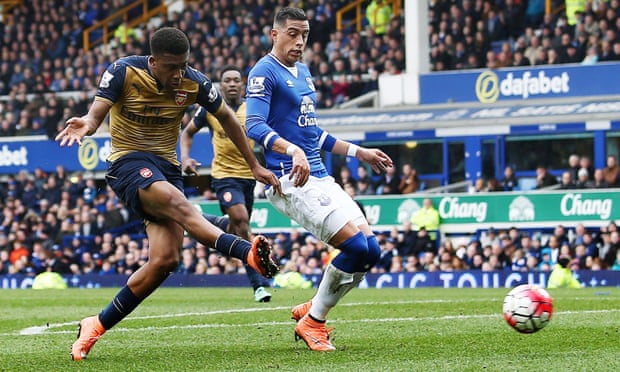 In fact the defence was a massive contributor to our second goal, starting with Koscielny winning two big tackles against Lukaku and McCarthy. Funes Mori stepped in from defence to try and keep the attack going for Everton, but he was then dispossessed by Iwobi. One academy product then turned provider for another, as Bellerin chipped a lovely ball in behind for Iwobi, running into the space left by Mori's foray forward. Iwobi showed great composure, taking two touches to control the ball and then threading the ball through the keeper's legs with the third.
Aside from a bit of pressure towards the end, it was pretty plain sailing for Arsenal, which was a blessed relief to be honest. It's so tiring being on edge for every ninety minutes we play, it was nice to just relax for the second half and see the team looking comfortable. The frustration is that it's taken so long to achieve a performance like this and now that it has come, it appears too late. It would take an absolute miracle for us to have a sniff of winning the title, so it's disappointing to finally look like we've found our mojo after the league has slipped through our fingers.
However, this has been a crazy season. It would be just like it for there to be another mad twist and if there is, maybe we can take advantage. Leicester don't show any signs of faltering and Sp*rs had a fairly straightforward game against Bournemouth. But if there is a drop in form from either of those teams, we need to be ready to capitalise. Eight more performances like that and we might be in with a semblance of a chance.
Teams
Everton (4-2-3-1)
Robles, Coleman, Jagielka, Funes Mori, Baines, McCarthy, Besic (Stones 45'), Lennon, Barkley (Deulofeu 73'), Cleverley, Lukaku
Subs
Howard, Galloway, Kone, Niasse, Stones, Deolofeu, Osman
Arsenal (4-2-3-1)
Ospina, Bellerin, Koscielny, Gabriel, Monreal, Coquelin, Elneny, Alexis, Özil (Gibbs 74'), Iwobi (Chambers 86'), Welbeck (Giroud 75')
Subs
Macey, Gibbs, Chambers, Mertesacker, Walcott, Campbell, Giroud
Player Ratings
Ospina - 7/10 - Didn't have a lot to do, but battled on after getting a nasty whack
Bellerin - 8/10 - Excellent performance that included another nice assist
Koscieny - 8/10 - A rare, assured performance that was much needed for him
Gabriel - 8/10 - Has had an up and down season, but was excellent against Lukaku
Monreal - 7/10 - He was his usual steady self
Coquelin - 8/10 - Put in a lot of strong tackles in the midfield, helped to win the battle there
Elneny - 8/10 - Growing in confidence and starting to look like an excellent buy
Alexis - 7/10 - Got a nice assist and his overall performance was better than recent games
Özil - 7/10 - I just want him to get these assists and break the record already!
Iwobi - 9/10 - A brilliant full debut, he looks the real deal
Welbeck - 8/10 - Excellent, since his come back he's been our best attacker by far
http://twitter.com/sambangsdrums Tell us what you think! If you agree, or have a different view, please leave a comment in the comments section or why not write a response or your own article on YouWrite?

Think you know Arsenal? Test your Arsenal knowledge on our trivia page and see if you can beat the top score.

Don't forget to like us on Facebook, add us to your G+ circle and follow us on Twitter.
Follow us
Follow our podcast
Tags: Premier league, Match Review, Match Report, Welbeck, Iwobi, Everton vs Arsenal