No Benzema, No Problem?
I think Arsene Wenger is certainly open to adding another striker to the squad prior to the close of the transfer window- if he can. But unless the Benzema piñata is cracked open by a Madrid signing, I don't think it's going to happen due to the paucity of market options. In this context, Theo Walcott and Olivier Giroud have been able to make hay whilst the sun shines. Both have signed contract extensions in 2015 and both have probably been able to capitalise on the lack of viable alternatives when negotiating an uplift in terms.
Walcott has done little since his last contract to merit a 40% salary rise (largely due to injury), but his new terms are effectively a down payment on what Arsenal would expect him to produce over the course of his new deal. There's a good argument to say that this is exactly how contracts should work of course, there are more than enough bonuses and clauses built into the modern football deal to reward players for achievements that have passed. If Arsenal have decided to stump up for Theo, it's because of what they think he can produce over the course of this deal, not a pat on the head for services rendered.
I have argued before that a more clinical Danny Welbeck would come close to Wenger's ideal striker. But until he finds that ruthless streak, I think Welbeck will be preferred on the flanks and largely considered third choice for the central striker role. In lieu of a genuinely top class striker, Arsenal have three decent options, which is not a bad place to be in really. Welbeck has been injured for much of the year, so it's difficult to draw concrete conclusions on where he figures in the pecking order. Pre-season indicates that Wenger is willing to be more fluid with his centre forward choice, after three years of Giroud as the benevolent dictator in this position.
Arsene Wenger selected Theo Walcott at centre forward for the last two games of last season and for the Community Shield against Chelsea. After the match, he cryptically suggested that Walcott was an option there, "for certain types of games." Walcott himself said that, "You'll see me more through the centre this year, as well as on the left and the right." What Wenger meant by "certain types of games" is open to interpretation. My hunch is that Chelsea was a testing ground for matches against top teams with sturdy defences and that Walcott is more likely to figure as a centre forward against the league's lesser lights.
As ever with Walcott, his contribution was not straightforward. On paper, he passed the ball only 13 times in his 65 minutes on the pitch. However, one of those passes assisted Chamberlain's winning goal and much of Walcott's effect is invisible or intangible anyway. His pace, or at least the spectre of it, forces defences backwards and affords space for the likes of Özil and Cazorla in midfield and potentially Alexis on the left too. He makes life a little more comfortable for Arsenal's best players, which should be the aim of any player whose technique falls short. Personally, I prefer Walcott as a centre forward as opposed to a wide player nowadays. I think we have plenty of options from the flanks that are superior and I'm not sure that you can have Alexis and Walcott on opposite sides simultaneously. I have given up hope that Walcott's technical level will improve drastically now that he's 26.
Playing him further forward caters to his strengths and it reduces the impact of his flaws. It matters less if the ball is passing him by completely if his presence is making that centre half hesitate. I would only be tempted to play him from the right or left if injuries demanded it, or if Arsenal were playing with Alexis as a false 9, gravitating away from the centre halves to pick up the ball in space. There, Walcott could pretty much behave like a striker from the right or left anyway. But I think @poznaninmypants made a very interesting point on the Arsenal Vision podcast recently about the prospect of Giroud and Walcott becoming a "tag team" of sorts. Not just from game to game, but within the context of 90 minutes.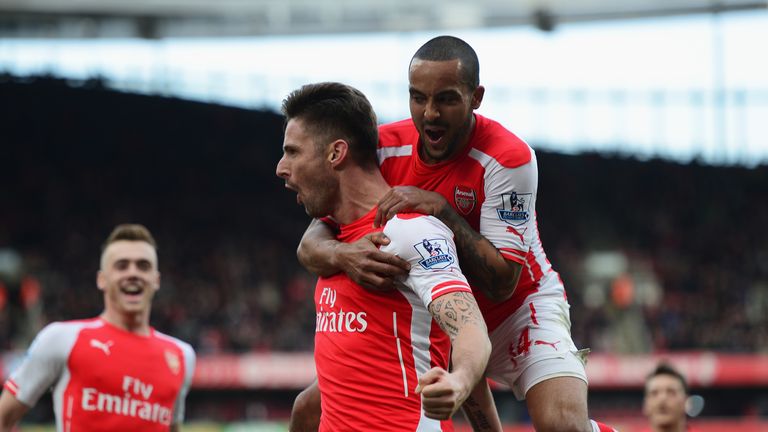 Just to sidestep the accusation of entirely shameless plagiarism, PIMP's musings build on something I wrote about in my FA Cup Final Preview. Giroud and Walcott are chalk and cheese in terms of style; both have very obvious strengths and require totally different treatment from the opposition. For an opposing manager, not knowing which threat you are trying to counter until the last moment creates dilemmas and uncertainties. In the aftermath of Arsenal's FA Cup final saunter, Michael Cox made the point that Villa's defence had adjusted to the idea of Walcott playing at centre forward, but their midfield continued to behave as though Giroud were playing.
Villa's preparation was obviously muddled because they did not know which striker they would face. This is a Rubix Cube Wenger can toss to other Premier League managers. At least until Wenger's comments over the "type" of game he might use Theo for become clearer. Because Giroud and Walcott offer a very specific threat, they have both shown great aptitude for changing the pattern of games from the substitutes bench. Walcott's speed and Giroud's power are even greater weapons when deployed fresh from the bench against tiring opposition. 70 minutes of wrestling with Giroud's dominant physique is a sapping task and a fresh Theo Walcott probably isn't a welcome sight at that stage. This works in the reverse aspect too. 70 minutes of countering Walcott's speed isn't the ideal preparation for a scrap with the marble sculpted Giroud. (It's impossible to write about the Frenchman without lapsing into homoerotica).
Not only that, but tactically, the opposition are pretty much forced into changing the way they are playing mid game, which can be a valuable weapon for Arsenal in terms of arresting any momentum they might be building. Whilst Giroud and Walcott together as a traditional front two could also work, I doubt that we will see that as anything other than a panic button. I can't see Wenger sparing a midfielder to accommodate that partnership. Arsenal, like many sides at Europe's top table, don't have an entirely satisfactory centre forward solution. But if the Benzema apple doesn't fall from Madrid's tree, Wenger will probably be content to deploy the Swiss army knife of a Giroud - Walcott tag team.
http://twitter.com/Stillberto Tell us what you think! If you agree, or have a different view, please leave a comment in the comments section or why not write a response or your own article on YouWrite?

Think you know Arsenal? Test your Arsenal knowledge on our trivia page and see if you can beat the top score.

Don't forget to like us on Facebook, add us to your G+ circle and follow us on Twitter.
Follow us
Follow our podcast
Tags: Real Madrid, Giroud, Walcott, Theo, Benzema, Strikers, Madrid, Tag Team