Arsenal could return to a back four in search of a win
Match Preview: Arsenal vs. Bournemouth - Premier League - 09.09.2017
What a difference a transfer window makes huh...
Just a few short weeks ago Arsenal had signed Alex Lacazette from Lyon and Sead Kolasinac on a free and were being linked with more signings, with names such as Seri, Lemar and Van Dijk all getting a mention in the column inches and media outlets. Fast forward to the present day, the window now closed, the likes of Perez, Gibbs, Campbell, Gabriel and most notably Alex Oxlade-Chamberlain all out the door and no further additions to the squad made, it would be fair to say relations between supporters and club are at a somewhat frosty stage ahead of Eddie Howe's Bournemouth arriving at The Emirates Stadium on Saturday.
Despite the obvious short comings in the current Gunners squad it should not be forgotten that talisman Alexis Sanchez was retained despite strong interest from Manchester City and with players like he, Özil, Ramsey, Lacazette, Koscielny and Cech all available for selection it would be churlish to suggest Arsène Wenger does not have a more than adequate amount of top talent to compete for this year's Premier League, now, whether or not this represents a realistic title tilt is open for debate, but a home tie with a side struggling at the early stage of the season to pick up points (As are Arsenal in fairness!) should be the ideal platform to start the healing process.
So what can we expect from this fixture, well, in short I expect goals, neither side can boast a particularly water tight backline, but on the other hand both sides favour an attacking style of play, which seems likely to yield an open, end to end contest of who can outscore who! Sound like fun doesn't it! Well, in theory it does, but being an Arsenal fan we all know the drill here don't we...
The formation from Arsenal in particular could be interesting in this one, leaving my thoughts on 3 at the back aside, it was clear pre-international break that the players are simply no longer comfortable in the 3-4-3 or 3-5-1-1 variation of formations any longer, or least those being picked out of position aren't anyway! With this in mind and Arsène Wenger being a man who is famed for sticking by his principals I anticipate a return to a back 4 for this game, with Bellerin and Monreal reverting to fullback and a return of the Koscielny/Mustafi pairing at centre half, so the midfield could be an interesting watch, will Wenger revert to 2 holding midfielders again or look to be expressive with 1 holding player protecting the defence with a free form attacking pattern in front linking to the somewhat inevitable lone centre forward. We shall see, but I must confess I favour the latter given our options available.
As for Bournemouth, whilst they have defensive issues and playing the way they do does offer up a plate full of chances to an opposition team when playing away from home Howe is no mug, players in the mould of Harry Arter for example will put themselves about in the centre of the park and any attack boasting a finisher with the record of Jermain Defoe does need to be carefully patrolled for the full 90mins. All that aside I do expect Arsenal to create chances against this calibre of side, as good as Charlie Daniels, Steve Cook or Nathan Ake are at getting forward I do always feel Bournemouth look very open in the centre of defence or fullback area, this has to be a focus for The Gunners to look at exploiting, runners from deep arriving at key times such as a Ramsey, or an Özil could penetrate a side that is so often caught out at key times in games, as Raheem Sterling could tell you having netted late on against The Cherries in their last outing. A word of caution in mind though, if Bournemouth score early The Emirates atmosphere could turn very quickly and we've all read the script of the 'small team' who came to London to frustrate and time waste before haven't we...
At the risk of being disrespectful to the opponents I do see Arsenal cruising this game all things considered, an early goal would do the fans and team alike the power of good, but even if that doesn't arrive I still see the home side prevailing in a comfortable manner. I am going for a high scoring home win, maybe more in hope than by judgement of the season so far, but I am sticking with it never the less.
In closing I want to do something rare and give a mention a good friend – Dominic Nuske @ozgooner49 on Twitter, who will be in attendance for his very first Arsenal game with me and a few other Podcasting chums, indeed his first visit to the UK as a proud Aussie! So let's hope Dom and I aren't left disappointed at the final whistle and if you spot us at the game, do come and say hi! Football is about more than transfers and money, let's get behind the team and hope for 3 points come Saturday teatime. COYG!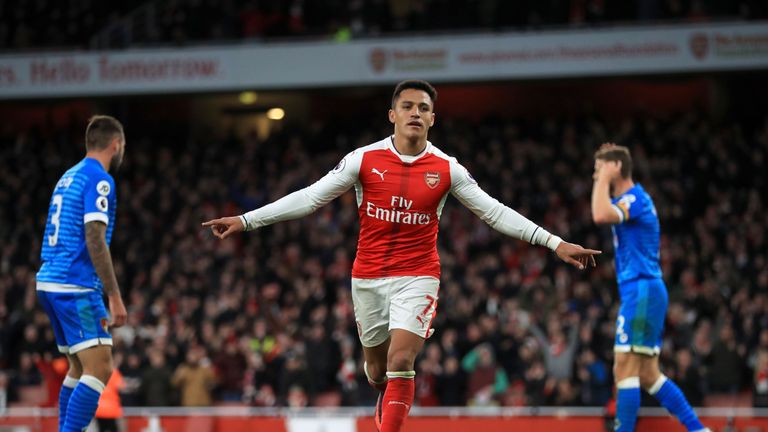 LAST 3 Meetings
Bournemouth 3-3 Arsenal (03.01.2017)
Arsenal 3-1 Bournemouth (27.11.2016)
Bournemouth 0-2 Arsenal (07.02.2016)
FACTFILE
Arsenal have won four of the five previous meetings, with the exception being January's 3-3 draw at the Vitality Stadium - when the Gunners recovered from 3-0 down.
Arsène Wenger's side have won all three of their previous home games against the Cherries.
The Gunners could lose three successive Premier League games for the first time since January 2012.
However, they have won their last six league games at the Emirates, scoring a total of 15 goals.
Arsenal have won their last 23 Premier League home matches against sides in the relegation zone since drawing 4-4 with Spurs in October 2008.
They have conceded an average of 1.43 goals per league game in 2017, their highest rate in a calendar year since 1965.
Defeat would leave Arsenal with their lowest ever points tally after four games of a Premier League season.
A draw would represent their worst start since the 2011-12 campaign.
Francis Coquelin could make his 100th Premier League appearance.
The Cherries could lose their opening four games of a league campaign for only the third time in their history.
The two previous occasions (in 1983 and 1994) were both in the third tier.
Bournemouth are winless in their last six Premier League games in London, losing five of those matches.
Jermain Defoe has failed to score in his last 10 league and cup appearances away to Arsenal, including all eight of his games at the Emirates Stadium.
His only previous goal away to Arsenal came in West Ham's 3-1 defeat at Highbury in January 2003.#
Eddie Howe's five-year tenure at Bournemouth makes him the second longest-serving manager currently in charge of a Premier League club, behind Arsene Wenger (21 years).
KEY MAN
Alexandre Lacazette – His centre forward skills have already been displayed in glimpses since his arrival in London, this game represents a real opportunity to take chances and make the difference for an Arsenal side so often guilty of not putting games to bed.
INJURIES
Cazorla is ruled out; Wilshere and Chambers are still doubtful.
POSSIBLE STARTING XI
Cêch; Monreal, Mustafi, Koscielny, Bellerín; Ramsey, Xhaka; Alexis, Özil; Lacazette, Welbeck
GOONERSPHERE'S PREDICTION
Arsenal 4-1 Bournemouth
https://twitter.com/afcfreddie8
Tell us what you think! If you agree, or have a different view, please leave a comment in the comments section or why not write a response or your own article on YouWrite?

Think you know Arsenal? Test your Arsenal knowledge on our trivia page and see if you can beat the top score.

Don't forget to like us on Facebook, add us to your G+ circle and follow us on Twitter.
Follow us
Follow our podcast