Arsenal need to stick with 3-4-3
Match Review: Arsenal 4 Leicester 3 - Premier League 11.08.17
In such an uncertain world, full of turmoil and change, its good to know that some things are still the same. Arsenal have lost none of their ability to put us through the wringer over the summer as the season opened in chaotic fashion, but ultimately in success. A great match for the neutral fans, less pleasant for all of us.
As expected, we began the season playing the 3-4-3 formation that rallied our ailing campaign at the end of last year. Unfortunately injuries, suspension and the confederations cup meant that it was a back three that can be generously described as makeshift. Holding presented on the right, Monreal in the middle and Kolasinac on the left in a lineup that I imagine was a last resort for Wenger. Kolasinac is best suited rampaging down the left hand side and whilst Monreal has proven himself a capable part of the back three, he certainly looked lightweight as the centre piece. Holding was the only natural centre back in the lineup and struggled without the influence of a Koscielny, Mertesacker or even a Mustafi.
With Monreal and Kolasinac drafted into the centre back trio, Oxlade-Chamberlain reprised his FA Cup final role of left wing-back and Bellerin took up the role on the right. This is a slight area of concern for me as we have very limited depth at the wing-back especially as Chamberlain's future is very much in doubt. It's fine when we have all our centre backs fit as we don't have to push Kolasinac into the back three, but it's still worrying that Bellerin, Chamberlain and Kolasinac are the only seemingly viable options at that wing back spot. Debuchy, Jenkinson and Gibbs are all on their way out of the club, assuming anyone wants to buy them, and relying on a Reiss Nelson or Maitland-Niles seems like a risk.
The midfield pairing was another area where things didn't particularly click and I'm really not convinced Elneny and Xhaka work together. Leicester were very good in pressing us back into our own half and got their first two goals from forcing us into turnovers on our right flank. The second of these was a stray pass from Xhaka that was pretty much forced by Elneny putting him in trouble in the first place. Too often the midfielders were doing the same sort of thing independently of each other and not enough was being done by the players around them to alleviate the pressure.
Having trawled through some of the negatives though, there was a lot to like in what we saw from Lacazette. Scoring a difficult header less than two minutes into your debut is pretty much as good as it gets for settling the nerves and his overall performance was seriously impressive too. He's not a tall man, but he's seriously strong and after being bundled over and man handled a few times, he started to find his feet and was holding off much bigger defenders than him. The 3-4-3 suits him as well, with his movement and link up play being key to our equaliser before half time. It's early days, but you can't ask for much more from a debutant in his first foray into a new league.
There was also the very effective cameos of Ramsey and Giroud who both scored to turn the game around at the death. Ramsey showed great composure to take down the ball from Xhaka and poke home the equaliser and Giroud's headed winner was brilliant, not only for his ability to direct the header right into the corner, but to do so while being practically disrobed by Wes Morgan. I was surprised Ramsey started on the bench and I can only assume it was down to match fitness rather than a tactical decision as we've seen before that the 3-4-3 formation really suits him and sets him free in a way the 4-2-3-1 never did.
As you can probably tell, I'm a big fan of the new formation, however the two goals that levelled and then won us the game came after we switched to four at the back. With Leicester leading and sitting back I guess Wenger figured that we didn't need three centre backs and went all out. We finished the game with a back four that comprised of a right winger, two left backs and a right back playing at left back. It did its job, but we did escape a few scary looking counter attacks that could have seen the game go the other way.
The debate will now no doubt continue over which formation is best for us moving forward. To me though, the answer is crystal clear: 3-4-3. You simply cannot ignore the positive change that this formation change brought at the end of last season. The only game we lost while playing it was away at Tottenham and it help us tear apart the league champions in the cup final. On top of that, the formation helps get the best out of so many more players than the 4-2-3-1 did. Chamberlain has been given a new lease of life at wing-back, Ramsey has more freedom, as do Özil and Alexis, Xhaka looks comfortable as the deep-lying playmaker and the back three has helped to give the defence some much needed structure.
Obviously, it's not perfect, there are ways to exploit every formation. We also looked an absolute mess at the back on Friday and conceded headed goals to Okazaki and Vardy of all people. To me though, Friday's struggles were a combination of personnel issues and poor execution. The first game of the season brings a certain amount of uncertainty and rusty players, just look at what happened to Chelsea. Mustafi should be in line to feature against Stoke this weekend, which adds a natural centre back into the mix and hopefully brings some stability. Even so, the 4-2-3-1 was no better from a defensive standpoint and I'd argue strongly that we look a lot better going forward since the change.
Concerns still exist over the state of our squad though and with not long to go in the transfer window, I doubt we're going to see much happen to improve the situation. The squad is hugely bloated and there's a lot of outgoings that need to happen and quickly. We have a big problem with wages at them moment due to rules over how much our wage bill can increase over a certain period. Kolasinac and Lacazette have pushed the bill up by at least £300kp/w, probably more and we haven't lost many high earners. Debuchy has been collecting a hefty pay packet for a while despite repeated attempts to get rid of him and the likes of Jenkinson and Gibbs signed new contracts a while back that assumed they'd be part of the first XI by now.
Perez is clearly not in Wenger's plans, another on a decent wage and Joel Campbell is still somehow on our books too. In those five players, there's a lot of wages that we could do with getting off our books. There's also the issue that Chamberlain, Ramsey, Alexis and Özil are all in the final year of their contracts. Alexis' situation is unclear and whether or not he's still with us at the end of the window remains to be seen, with the same being true for Chamberlain. But Ramsey and Özil are two players that seem to be willing to renew and we need to get that done ASAP.
It also remains to be seen what will happen with Wilshere, Walcott, Chambers, Ospina and Akpom, all of whom have been linked with moves away from the club and have question marks over whether or not they are up to scratch for the club. It worries me that we're going into the season with an increasingly error prone Cech and the unconvincing Ospina as our only two options. Mustafi and Gabriel have hardly lit up the league and Coquelin remains a seriously divisive figure amongst the fan base. At the moment, we seem to have a strong starting line-up when fit, but there is a huge amount of uncertainty over the quality of our squad players and the futures of a number of our first XI. The next few weeks are going to be very important and hopefully very busy. With gruelling Europa League to contend with, there are a lot of squad issues that need sorting very soon.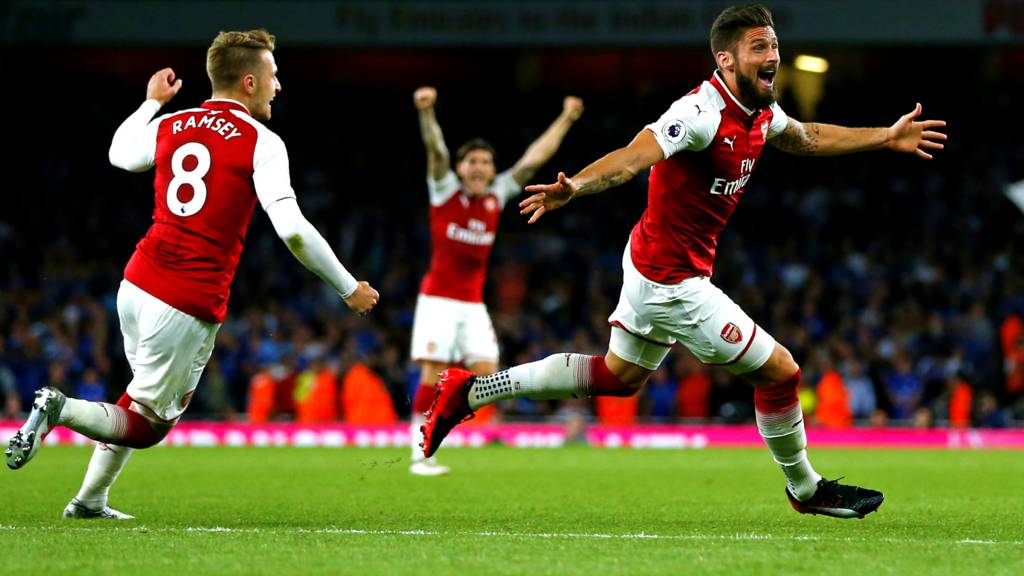 Teams
Arsenal (3-4-3)
Cech, Bellerin, Holding (Giroud 67'), Monreal, Kolasinac, Chamberlain, Elneny (Ramsey 67'), Xhaka, Özil, Welbeck (Walcott 75'), Lacazette
Subs
Ospina, Mustafi, Walcott, Ramsey, Giroud, Iwobi, Coquelin
Leicester (4-4-2)
Schmeichel, Simpson, Morgan (Y), Maguire, Fuchs, Albrighton (Gray 88'), James (Iheanacho 82'), Ndidi, Mahrez, Okazaki (Amartey 72'), Vardy
Subs
Hamer, Chilwell, Gray, Iheanacho, Amartey, King, Slimani
Player Ratings
Cech - 5/10 - Looking more and more worrying, poor for their first goal
Bellerin - 5/10 - Not great, his positioning was poor and put us under pressure
Holding - 4/10 - Looked in real trouble and was exposed repeatedly on the right
Monreal - 6/10 - Did his best as the main CB, but does not suit the position at all
Kolasinac - 7/10 - Strong and combative, did a lot of good work in the back three
Chamberlain - 6/10 - Better suited to the right and his end product is still woeful
Xhaka - 6/10 - Losing a header to Okazaki is criminal, but played well afterwards
Elneny - 5/10 - Didn't do well under Leicester's pressure, nor going forward
Welbeck - 6/10 - Couldn't miss his goal, despite trying, he needs to be more clinical
Özil - 6/10 - Struggled with not a lot of passing options
Lacazette - 8/10 - Immensely impressive, scored a difficult chance and was key to most of our attacking play
Subs
Ramsey - 7/10 - Key to the comeback with a great finish
Giroud - 7/10 - Won't be happy with the role of super sub, but he's bloody good at it
Walcott - N/A - I'll be kind and say he wasn't on long enough to rate
http://twitter.com/sambangsdrums
Tell us what you think! If you agree, or have a different view, please leave a comment in the comments section or why not write a response or your own article on YouWrite?

Think you know Arsenal? Test your Arsenal knowledge on our trivia page and see if you can beat the top score.

Don't forget to like us on Facebook, add us to your G+ circle and follow us on Twitter.
Follow us
Follow our podcast