Two games in and the blame Özil agenda is in full swing
Match Review: Stoke City 1 Arsenal 0 - Premier League 19.08.17
Two games in, four goals scored, four goals conceded. One win, one loss and a feeling that once again we're gearing up for season where very little has changed. At the end of last season, we played Stoke off the park and won 4-1 at the Britannia. It felt to me like it could be the moment we broke the cycle of poor results at their place, but clearly I was wrong. On Saturday we were lacklustre and lightweight, but more worryingly looked like a team that doesn't have a clue how to play together.
Mustafi returned to the starting XI at the expense of Holding. Holding dropped out of the squad altogether which was a massive surprise to me. Rob struggled badly against Leicester, but it was one game in which there were a number of substandard performances. The only reason I can find for his omission would be injury, especially seeing as Wenger saw fit to start Monreal and Kolasinac as the two centre backs again. Surely he wouldn't have done this if he had a choice? You never know with Wenger…
Even more strange was the decision to play Bellerin as the left wing-back and Chamberlain on the right. Previously Wenger has opted for the reverse, with Bellerin clearly more comfortable on the right and the left wing offering the Ox a chance to cut in onto his favoured right foot and influence play in the middle of the park. With Mertesacker on the bench, I struggled to see why Kolasinac and Monreal shouldn't have taken up that left wing spot and given us a natural left footer out wide and a natural centre back in the middle.
Xhaka and Ramsey formed our midfield partnership and many, including myself, believe this is our best pairing. But while Ramsey is showing signs of his best form returning, Xhaka had a terrible game and compounded it with a terrible mistake that ended in Stoke's winner being scored. His pass to Özil was easily intercepted and he then went charging in to immediately win the ball back and was skinned. Stoke poured forward and Monreal allowed Jese to run off the back of him and guide the ball beyond Cech.
Some idiots have been laying blame at Özil's door for this goal, but that's the agenda in full swing. Özil tracked his man all the way back and then handed him over to the defence to deal with. They didn't. Özil's job is not to track strikers runs to the near post after the deep lying midfielder has given the ball away. He can't magically turn into a speed machine that catches Jese when the Stoke player had a massive head start. The fact of the matter is that the goal comes down to poor decision making from Xhaka and a lack of organisation from the defence.
Let's address the refereeing, as we can feel fairly hard done by, despite our poor performance. Lacazette scored a perfectly legitimate goal that was ruled out for offside and we should have had a couple of penalties. At the very least we should've drawn this game, but until we bring in the video replay system games will continue to be decided by poor refereeing.
At the moment the system is being trialled in a few different leagues with mixed results. Clearly the system needs streamlining and it's bound to have teething problems, but we've already seen the benefits of goal-line technology. Football fans don't want to chat about controversial decisions after the game, we want the correct ones. Nothing more, nothing less. There will always be a human element and a subjective element to refereeing in football, but some decisions are black and white, either right or wrong. It is incredible that we've had to wait so long for the subject to be broached, let alone implemented, while other sports have forged ahead and left football looking foolish.
Having said all that, we wouldn't have lost the game if we hadn't conceded a stupid, self-inflicted goal. We wouldn't have lost had we created and taken the chances we know the team is capable of creating. We probably wouldn't have lost if we'd got the team selection right and sorted out the squad situation. We certainly wouldn't have lost if the manager could get his team to look like they know each other and know what they're supposed to be doing.
That, unfortunately is at the heart of the problem for us now. The 3-4-3 worked well and changed our fortunes last season. We switched to it without much time to prepare or train for it and it worked a treat. Now we've had a whole preseason to work on and fine tune the system and somehow we look much, much worse. This has sadly been one of the things Wenger has consistently fallen down on throughout his career. I cannot remember the last time Arsenal came into the season looking fresh, prepared and in form right from the off.
Losses count against you just the same at the start as they do at the end and things are not getting any easier. Liverpool away is up next, a ground where we've not won in a good while, followed by Bournemouth at home and then a trip to Chelsea, a ground where we haven't even managed a draw in years. If we lost both of our next two away games, which is very possible, we'd have three losses under our belts from the first five games. There's no coming back from that. By mid-september, we could be out of the title race and back to scrapping for the top four. If things don't get better quickly, this could be a very unhappy season for us.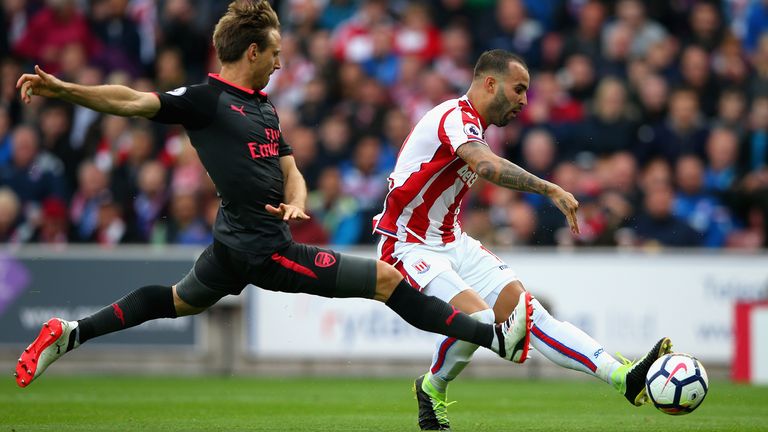 Teams
Stoke City (3-4-3)
Butland, Zouma, Shawcross, Cameron, Pieters (Martins Indi 89'), Diouf, Fletcher, Allen, Shaqiri (Berahino 25'), Choupo-Moting, Jese (Sobhi 71')
Subs
Grant, Sobhi, Bojan, Crouch, Martins Indi, Berahino, Johnson
Arsenal (3-4-3)
Cech, Mustafi, Monreal, Kolasinac (Giroud 66'), Chamberlain, Xhaka (Iwobi 79'), Ramsey, Bellerin, Özil, Welbeck, Lacazette (Walcott 78')
Subs
Ospina, Walcott, Coquelin, Elneny, Mertesacker, Giroud, Iwobi
Player Ratings
Cech - 6/10 - Didn't have a huge amount to do and not to blame for the goal
Mustafi - 5/10 - Went diving into challenges and didn't look very reassuring
Monreal - 5/10 - Let Jese in for their goal and shouldn't be playing as the middle CB
Kolasinac - 6/10 - Did ok, but is another player playing out of position for no reason
Chamberlain - 6/10 - Didn't give a lot going forward, didn't do much at the back either
Bellerin - 5/10 - Doesn't belong on the left or in the side on current form
Xhaka - 4/10 - Nowhere near good enough and made a really bad mistake for the goal
Ramsey - 6/10 - Looking better than last year, hopefully discovering his old form
Özil - 6/10 - Statistically very good, probably our best player on the day
Welbeck - 5/10 - Not sure what he offers, clumsy in both build up and in finishing
Lacazette - 6/10 - Struggled to get involved in the game, but took his chance which was wrongly ruled out
Subs
Giroud - 5/10 - No repeat of the Leicester heroics, missed a really good late chance
Iwobi - N/A
Walcott - N/A
http://twitter.com/sambangsdrums
Tell us what you think! If you agree, or have a different view, please leave a comment in the comments section or why not write a response or your own article on YouWrite?

Think you know Arsenal? Test your Arsenal knowledge on our trivia page and see if you can beat the top score.

Don't forget to like us on Facebook, add us to your G+ circle and follow us on Twitter.
Follow us
Follow our podcast